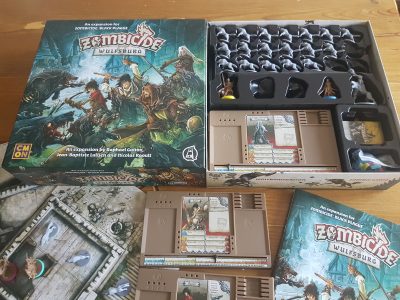 Zombicide: Wulfsburg is the canine filled expansion to Zombicide: Black Plague, again drawing players into the medieval zombie filled setting. Wulfsburg adds in a range of content including zombie Wolfz, a huge and deadly Wolfbomination, 4 new would be heroes, a plethora of awesome new weapons and two new double-sided game board tiles.
[Note: that Zombicide: Wulfsburg is an expansion box and the base game of Zombicide: Black Plague is required to play. If you're new to the board game series, check out Just Push Start's review of Zombicide: Black Plague.]
Clearly the developers thought the zombies in Black Plague weren't up to the job of eating brains. I thought they were to be feared enough but now zombie Wolfz will be chomping at the bit to get at the survivors. The Wolfz are fast and brutal zombies. All types of Wolfz get 3 actions per activation, scarily including the Wolfbomination! This sees them bounding across the squares and tiles ready to inflict death dealing damage in one fell swoop.
There are 21 of these speedy Wolfz in the box, consisting of three sets of seven slightly differing models. This is plenty to terrorise the survivors but beware when you run out of zombie Wolfz miniatures, the extra activation ruling is still in play and can rather instantly swing things from going well to a precarious, on the edge of failure, position. As the Wolfz spawn cards are shuffled into the normal zombie spawn deck, Wolfz won't be constantly spawning. When they do turn up it is often as a pack of Wolfz, ready to bound across tiles to devour the survivors. This seems to step up the difficulty of Zombicide a bit and results in stopping players taking too many risks. Overextending being the first risk to be swiftly punished.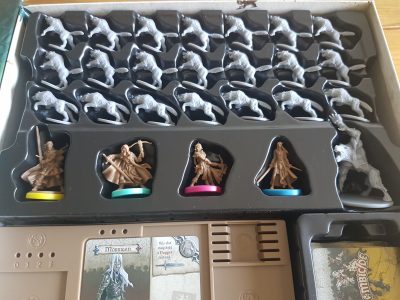 4 new survivors are added into the Zombicide roster in the Wulfsburg box: Theo, Ariane, Morrigan and Karl. Rather than adding new skills to the game these four plucky heroes use new combinations of the plethora of pre-existing skills. These skills are, which can be found in the back of the Zombicide: Black Plague rulebook, each offer the characters a unique advantage. Even if you decide to pick a character because they are, from their skills, proficient in a type of combat you still may have to adapt depending on the loot you find.
Take Karl for instance, he is similar to Baldric, from the base game. A number of his potential skills are magic related. Baldric's starting skill which is Spellcaster, allowing one free magic action a turn, is one of Karl's orange skills. Karl's starting skill of +1 die: Magic is one of Baldric's red skills. Both offer similar skills but when they become available to the player differs slightly, changing how you can play the characters. I found it quite effective, given the number of spells which are found by looting, to include both Baldric and Karl in the 6 survivors that venture on quests. Still, if you keep picking up melee or ranged weapons and even these spellcasters will need to choose other skills when they level up, leaving their potential of being a great casting wizard behind.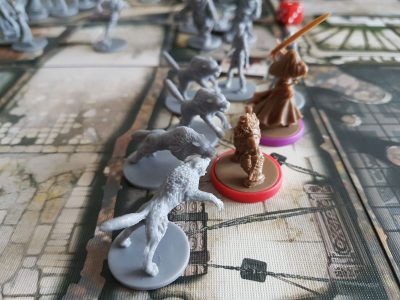 22 additional equipment cards are included in the Zombicide: Wulfsburg expansion, although 4 are doubles of the starting items from the base game. The rest do not only add in some awesome new weapons, to destroy the hordes of zombies, but also utilize the previously unused mechanic of magical equipment. Magical equipment was mentioned in the rulebook of Zombicide: Black Plague but was not actively used by any of the base game items. Things have now changed and this adds a new wave of strategy to the game.
As with all the Zombicide games, as players dispatch zombies or complete objectives they gain experience points. Walkers, Runners, Fatties, Necromancers and now Wolfz all give 1XP when killed to the individual player that dealt the damage. Slaying an Abomination and now also the Wolfbomination rewards that player 5XP, the same amount they would receive for picking up an objective. As with the levelling up in Black Plague, players earn new skills at 7XP, 19XP and 43XP. These benefit the player and include skills such as an additional action point, the ability to slip past zombies or even rolling more dice when attacking with select types of weapons.