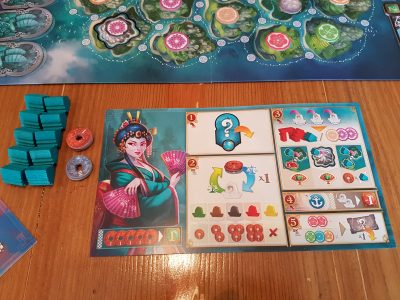 One element of Yamatai that I hope board game designers take notice of is the reordering of play. Instead of simply going clockwise around the table from start to finish, players' choices in rounds actively change whom will be first in the subsequent round. This re-ordering is done depending on what Fleet token a player picks. The 10 Fleet tokens are labels with the boats you'll receive, the ability you can do and then a number. It isn't until the next round these number becomes important.
In the following round players turns are ordered based on those numbers lowest to highest, where again players will pick from five Fleet tokens, again potentially changing the order of play. It means that no longer is player one guaranteed to go first every round, making turn order almost a commodity players can choose to strive for or relinquish for an opportunity to score points. A brilliant example of this is Fleet token 1. Taking it nets the player a single green Boat, the cheapest boat to buy or sell. However, it guarantees that player the ability to go first in the next round so could be worth it if you have a plan. When you'll be going in the next round suddenly becomes strategic as you can affect it.
The pieces in play are mainly a mixture of solid cardboard, for tokens, and wood, for the boat, Torii and Palace pieces that score you points. Player mats unfortunately are thin card, like the ones used for the score board in The Resistance: Avalon or Plague Inc. The Board Game. These mats aren't used too much during the game in terms of lots of pieces being placed on and taken off, so they shouldn't have too much chance to be scuffed or marked. Overall, the components are robust enough to be pristine after countless plays.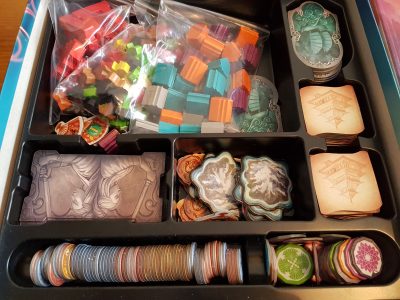 Reading through the rulebook the picture examples are more than welcome, as they are almost a necessity. The complex nature of Yamatai comes in with the bonus rules on the Specialist, Fleet and building tokens. The basic actions are simplistic and these alone would make an enjoyable board game. Yamatai is one of those games where its visual presentation will draw players in and the complexity may put some off. Flicking back to the rulebook disrupts the first few games of Yamatai that you'll play. This shouldn't be enough to put players off the game but you can see some players turn off.
Some of the Specialist tokens are more beneficial than others depending on your play style. However, players may have to adapt to what they can do and there is more than one way to win. The "best" Specialists for instance changes from one game to another. One of the Specialist tokens, Izanami, allows a player to receive half of the coins earnt from every single subsequent taken Specialist token. If a player obtains this card early on they can reap the rewards for the rest of the game. Conversely, if this same Specialist is flipped over and made available near the end of the game and its potential is squandered.
What is weird is there aren't that many Specialist or Fleet tokens. It is almost that the learning curve seems higher than it is. For seasoned board game players this can be looked past. Even knowing this though I would stay away from bringing Yamatai to the table with gamers whom haven't played before. I don't mind explaining a game to a new player as much as the next gamer. Alas, the game length puts me off teaching Yamatai. Only after a couple of games which realistically is 2-3 hours later will you be able to say okay let's play properly.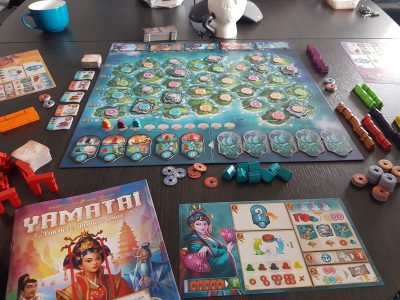 Yamatai is a mixed bag for me. The game feels like it shouldn't be as weighty, in terms of difficulty, as it is. The amount of different bonus abilities unfortunately adds more complexity than strategy, which is what I'm sure they were meant to add. It feels almost like complexity for the sake of complexity. It sounds backward to suggest removing the unique element of the Specialists. Yet, removing Specialists whilst keeping the abilities on the Fleet tiles, would help the game flow better and keep some of the deeper strategic element of Yamatai. Overall, I can see Yamatai staying on my shelf but not often hitting the gaming table.
[Editor's Note: Yamatai was provided to us by Esdevium Games for review purposes.]