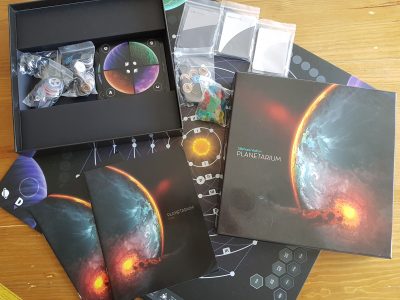 Planetarium is a board game based upon the start of a new solar system, which was fully funded on the crowdfunding website Kickstarter. The game sees 2-4 players controlling the matter and planets of the system as they orbit around a new born star. Games take on average the suggested 45 minutes for the first couple of plays, after this you can shave off 5 – 10 minutes depending on the cards that come up. Some will benefit you more than others and it is often noticing that cards are helpful for your cause that results in a decision is coming your way.
Setup only starts around 5 minutes, despite there being a lot of tokens to place on the board. Firstly, players have a choice between flat planet tokens and upright planet markers to place on the planet A, B, C and D starting locations. This isn't game selling but it is a nice inclusion that leaves it down to players' personal preference. Next the 68 Matter tokens are flipped upside down, shuffled and randomly distributed to the dots on the game board. Players each take a small player mat. This will house Matter tokens as players collect them while playing. Player scoring markers are placed on 00 and 0, and the matching colour scoring cubes are distributed to players. The Evolution cards are split into 3 piles: Low Evolution, High Evolution and Final Evolution. Finally, players take 5 cards (two Low, two High and one Final Evolution) and the game begins.
On a given go players can perform 3 ordered actions. They can make one movement, if possible play a card and then drawing a card so their card count equals five. Movement is the most common action, not only is it possible on every go it also allows players to obtain Matter tokens. Simply crashing a Matter token into a planet, or vice versa, enables a player to add that Matter token to the involved planet's section on their player board.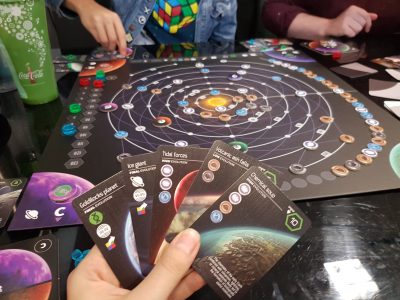 This is where the game board adds something rather unique to the game mechanically. Movement-wise, players can only move planets or Matter tokens clockwise, as if they are in an orbit. If planets stay in the same orbit they can move through empty spaces, while Matter until later in the game can only ever move one space at a time. Matter and planets can also change orbits via the tracks on the board. As the game and the Solar System evolves, planets and matter can end up in completely different orbits from when they started.
Once a single movement action has been completed it is time for the player to spend their Matter, if they so wish and if they can. Evolution cards come at a cost of matter but they help players score points and effect planets. This is where strategy is introduced to the game, knowing how to effect planets. Throughout the game players will be playing Low and High evolution cards. At the end of the game each player gets one turn to play a maximum of four Final Evolution cards. These Final Evolution cards, and often the other cards too, have additional requirements on top of a selection of Matter tokens. These range from planets being certain in orbital rings on the board to needing hostile or habitable environments on planets.
As planets can only be hostile or habitable, players will throughout the game try to swing individual planets one way or another. This is done by playing Low and High Evolution cards on them. Playing Moon Disintegration on a planet for example will cost a player two rock, one water and one metal. On top of this Matter requirement the card also has a symbol of a planet with a ring around it meaning it can only be played on a Gaseous planet. If the requirements are met and the player pays the matter tokens they straight away score 10 points for the Moon Disintegration card and as it is designated a hostile planetary action the planet swings to hostile by that number of points. Ozone Layer however would score 6 points, making a planet habitable by those 6 points. It would require only one water and one gas Matter tokens on a Terrestrial planet.