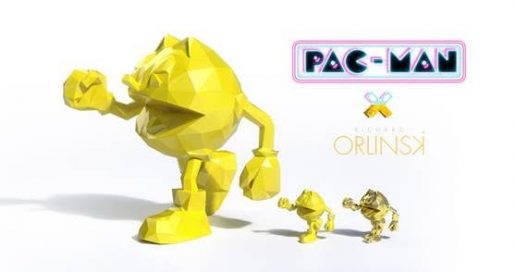 To celebrate the Pac-Man 37th anniversary, Neamedia and Bandai Namco has teamed up with Richard Orlinski to produce Pac-Man figures.
3 different versions of the Pac-Man figure will be available via the Kickstarter campaign. The 1980 arcade character will be in figure for as a yellow 25cm (10-inch) version, a golden chromed 25cm (10-inch) version and an exclusive 1 meter(40-inch) version. The latter being limited to only 37 units. Naturally, these are all very different tiers of the Kickstarter campaign, which is looking for €30,000 to be fully funded.
Richard Orlinski, the sculptor & artist behind the figures revealed: "When I was contacted about the Pac-Man project, I found the idea absolutely amazing. It completely fits in my universe, because I try to develop Pop-Art, which speaks to the largest number of people. It was challenging to keep Pac-Man's identity while bringing something new and modern".
The Kickstarter campaign has started today, May 22nd and runs through to 20th June, 2017. The campaign aims for backers to receive their first sculptures by the end of 2017.