The Persona series has always been a fan favorite of JRPG fans all over the world. Not a single Persona game that Atlus released over the years has flopped. Instead, every main entry of the Persona series had always been a success. Now we're onto the release of Persona 5 and expectations are quite high, especially with the success of Persona 4 Golden back when it was released on PS2, and PS Vita. After spending many hours onto the game, I must say that Persona 5 has surpassed Persona 4 in every possible way and is now my favorite JRPG to date.
The plot of Persona 5 is more mature compared to its predecessor. It actually has a serious tone this time around, with an  ominous and dark vibe to it. Without spoiling the story, you play as a High School student who is placed on probation due to an assault back in your hometown. Your parents send you away to Tokyo to start a new life in the Yongen-Jaya district. As with all Persona games, you will have someone to take care of you and guide you as you finish your second year in high school. From there, you become a member of Phantom Thieves who will infiltrate castles and other areas in a distorted, alternate reality in which you will be saving people. Of course, you will have your friends to join you and a life to live in Tokyo.
In the first six hours, you'll feel that the story starts off slow. You'll go through tutorials to get you familiarized with the game and as soon as you are done with it, that's where you'll have the freedom to explore and enjoy the game. The story compared to other games in the series is more refined and much better. The narrative is beyond perfect and the exchanges of conversation between the characters are well written. At the beginning of the game, you might all but confused with the plot but as you give the game the time the story gets deeper and you will understand it more. In terms of the characters, they are well developed and they all have an interesting story to tell and Atlus made sure that you'll feel an emotional connection with each one that you meet. Of course, there will be tragic moments that you'll encounter in the game but the way Atlus has tackled the narrative aspect is impressive.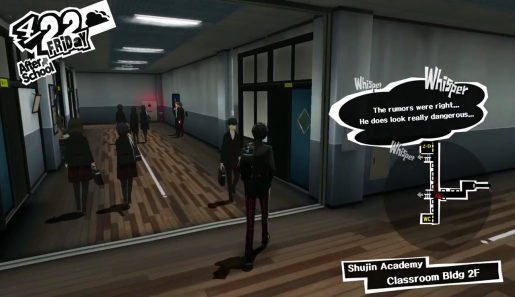 Similar to other Persona games, you will live your life as a student oin Shujin Academy where you will go to class, take exams, and do other school activities. Outside of school, you will have your social time to interact with your friends and freedom to do whatever you want. To help you manage your days and time, you will have a calendar system to plan out your activities. You exactly have one school year to get things done, but unfortunately, you will be tasked to do certain things before the school year is over and that's to save certain people within the game. Every activity that you do is counted as 1 day, so it's really a good idea to plan things out before doing anything tragic as your time will be gold.
Dungeons in Persona 5 has improved compared to its predecessor. From random-generated floors, the dungeons in Persona 5, also called as Palace, are completely unique to one another. That means, the style of dungeons will vary from one to the next. The Palace that you will get to explore is built around the desires, emotions, inner thoughts and nature of the certain people in the game. It is your job as Phantom Thieves to steal the treasure that lies deep inside the Palace and hope that the person will have a change of heart. But beware, there are enemies and all sorts of traps that stand in your way. Consider the Palace as the alternate reality of that certain character and yes, the dungeons are designed very well and can be considered as much better than dungeons in previous games.
Exploring Palaces are quite fun. Each Palace that you will encounter are designed in a unique way where you will either solve puzzles, or uncover hidden items. After getting the "Third Eye" ability from Igor in the Velvet Room, you will have an opportunity to search for hidden items scattered throughout the dungeon. These items can vary from materials or equipment that will be useful to your exploration. Also, there will be a plethora of hidden areas that you can go to and that can be done with the use of the Jump ability. At certain places of the dungeon, you can jump to reach certain hidden areas, though you will need to use that Third Eye ability to see what areas you can jump from.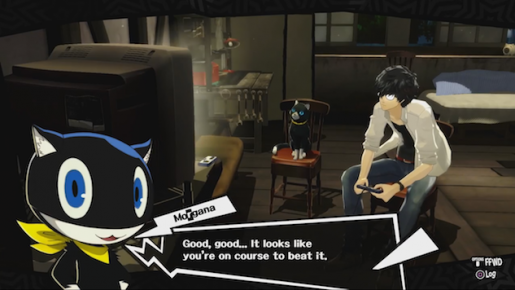 With you being a member of the Phantom Thieves, expect to go all stealthy. Whenever you are in a dungeon, you can approach an enemy in a stealthy way by going cover to cover and ambush them. When you succeed an ambush, you will gain the initiative in battle. For those who like to run around the dungeon and have the enemies see you all the time, you can only do them a certain amount of times as there is now a meter that increases whenever you an enemy sees you. Reach 100% of that meter and you will be kicked out the palace and that will count as one day.
As for the combat system, it's more of the same thing as Atlus decided to stick to turn-based battles once again. Instead of going through menus like in Persona 4, the battle menu has now changed to a face button system that speeds up the battle. The combat mechanics remains the same as well in Persona 5. Every time you target an enemy's weakness, you will get another turn. If all of the enemies are down through weakness exploitation or critical hits, you will enter the Hold Up phase. During that phase, you have option to either barter with the Persona into joining you or giving you items, or perform an All Out Attack where all of your characters will attack the enemy altogether. In addition, the use of Guns are back, though ammunition is limited and the only way they replenish is when you leave and re-enter the dungeon.
To gain advantage in battle, you will be spending time fusing Personas. Termed as Execution in Persona 5, the more you fight enemies and barter with them and have them join you, the more chances you will gain powerful personas. For those who have played Persona games in the past, this should be a familiar territory as nothing has changed when it comes to this aspect. Literally, you cannot gain a new Persona that is a higher level than you and the skills of the Personas you are fusing can carry over to the ones you will get. It's best that you experiment and attain the ultimate Persona just before the in-game Calendar ends. It's possible to get it, but you will just have to plan it out carefully.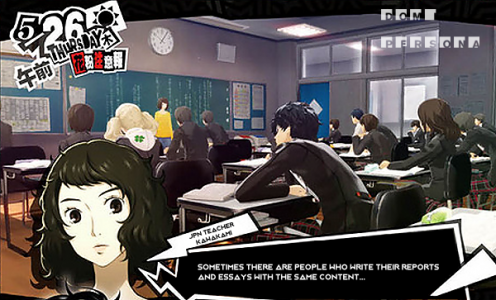 Assuming you want to take a break from raiding Palaces, you have an opportunity to be a normal teenage high school student and venture through Tokyo. Since there are a lot of areas to visit in Persona 5, you can go to the parks, subway stations, restaurants, and do all sorts of things outside of school to take a break from the exhausting dungeon raiding. You can take the time to shop for the items you will be using for the next Palace you'll raid or simply spend your time in the library increasing your stats. Also, spending time with your friends is recommended as the more time you spend with them, the more social link points you will get. With stats like the knowledge, guts, courage, and charm to raise, you will have the freedom to pick what you want and build them up. Just don't forget that whatever you do, it will use up your entire day and by the time you finish, it will be evening, which means you will now have to sleep and wait for the next day to happen.
In terms of visuals, I must say that it's phenomenally beautiful and an improvement from Persona 4. There are a lot of animation cutscenes this time around and expect a lot of conversations that have voice overs. The dialogue system is done in a comic-book style which is quite interesting and fits rightfully in the game. As far as quality of voice overs, they are superb and each voice fits with the personality of the characters in the game. If there is one thing that I like about the visuals, it's the dungeon design of the Palaces and of course, the art of the characters in the game. Not to mention, the soundtrack is awesome where you will hear a mix of jazz elements and interesting/calming tunes when exploring certain palaces that fits perfectly to the personality of the character.
Verdict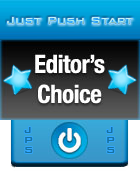 Persona 5 is everything a great JRPG should be. From its exploration, perfect narrative, well written dialogue and gameplay that doesn't get old, Persona 5 is a must have for every JRPG fan. For newcomers of the series, now is the best time to jump in and experience the best JRPG to date.
[Editor's Note: Persona 5 was reviewed on the PS4 Pro and was provided to us by the publisher for review purposes.]
Persona 5 (PS4) Review

,