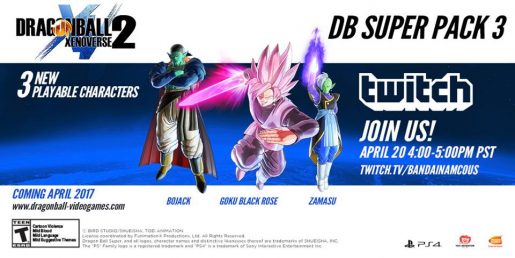 If you want to catch a short preview of DLC Pack 3 for Dragon Ball Xenoverse 2, you can do so later this week as Bandai Namco will be streaming some of the action on their official Twitch channel.
Bandai Namco posted the following message on Facebook: "Wanna see Super Saiyan Rose in action? Tune into our #Xenoverse2 Twitch Livestream on April 20 at 4pm PST". You can catch the stream by clicking here on April 20th.
The third DLC pack for Dragon Ball Xenoverse 2 will be out later this month. It will include the three new characters of Bojack, Super Saiyan Rose Goku Black and Zamasu. More skills and parallel quests are also added.
Be on the look out for more DLC packs in the future as Bandai Namco plans to support the game for a long time. There might be even more surprises in store for Dragon Ball Z/Dragon Ball Super fans in the near future.