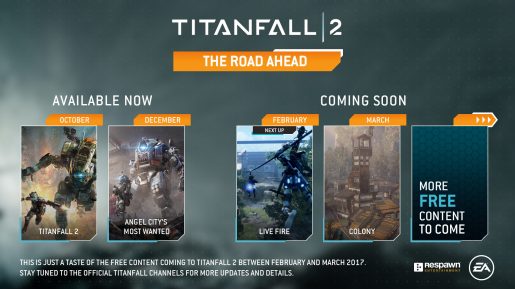 One of the best things about Titanfall 2 is that Respawn is giving away free DLC for everyone to download. The developer is promising more content is still due out later this year.
Respawn announced via a blog post more on what's to come in Titanfall 2. In February, owners of the game will receive the all-new Live Fire game mode. It's a fast-paced 6v6 style match where rounds only last for 60 seconds.
Respawn notes that this game mode was inspired by paintball matches. Map sizes are smaller than traditional maps in the game. Two new maps will be added specifically for this new mode.
In March, the developer is adding a classic map from the first Titanfall game. This time, players can use the "Colony" map in Titanfall 2. It has been remade and the map will be released in March.
As you can see from the screenshot above, even more free DLC is coming out after the month of March. It's cool how everything is free as most other games require you to pay for an expensive Season Pass or multiple DLC packs. Free DLC also makes sure that the player population is not segregated in any fashion.