Even though Destiny was envisioned and pitched as a long-term project, the game itself has seemed uncertain which direction to take or how to approach things. These types of issues are understandable given how different Destiny is from your average shooter and Bungie's previous projects, resulting in mixed reactions from fans. For every player that loves Destiny you have another that despises it, largely due to poor choices at some point down the road. In their latest effort Bungie decided to celebrate the past, while also moving forward. With a clear vision for Destiny: Rise of Iron, is it worth the investment or should they just start from scratch?
Destiny: Rise of Iron tells a familiar sci-fi story. A group of people discover something that has the promise of benefiting everyone, but ultimately brings about their destruction. This is what SIVA is in a nutshell and the story itself is about correcting the mistakes of the past and stopping the Fallen from achieving power with it. With so much to cover, it might come as a surprise that the story is told in extremely broad strokes through five or so missions, two of which are set-up.
The issue with this style of storytelling is that SIVA has little to no presence in the story and doesn't seem to pose much of a threat. Sure the world is infested with it, enemies are more advanced because of it, though the stakes remain relatively low. If anything it makes the original Iron Lords look bad, since hundreds of them fought and died to defeat SIVA, yet a single guardian is able to "end" it and as few as two or as many as six of us defeat the person pulling the strings at the end with relative ease.
Even though the main story could use a lot of work, at least in how the story is told, Destiny: Rise of Iron does a fantastic job with minor details. Without it being too overtly said, you could tell through facial expressions, where Saladin is looking and the overall tone that he is haunted by his past and loss. It makes for a more interesting story than the SIVA "crisis" or anything else going on in the forefront, which is an ongoing theme in the expansion and Destiny in general.
The best moments in Destiny: Rise of Iron, besides the raid, are small things people might miss. In addition to Saladin expressing grief for his past mistakes, the Khvostov 7G-0X quest is a love letter to fans. One that takes your first weapon and turns it into an exotic by visiting the first couple of places you go in Destiny, capped off by a heartfelt speech by the ghost. It's a nice touch and the first in a series, be it context clues that it was Jolder sacrifices her life at the start to the elaborate puzzle that you need to solve to unlock the raid pulse rifle.
Speaking of the raid, Wrath of the Machine is one of the best, if not the best, raid to date. Taking a page from Vault of Glass, Wrath of the Machine has less damage checks and more mechanics to work through. Like the difficulty of the last boss isn't damage, something groups were able to do around 15 to 25 light levels below the boss, but mechanics. Getting people where they need to be, doing everything fast enough, making the most of the tools given to you and things like that. It makes for a more satisfying experience and one where everyone has a role to play and something to contribute outside of damage. A statement that is also true about Supremacy, the latest PVP mode.
Supremacy is a fast paced PVP mode based around outthinking your enemy. In this mode you need to collect medals from fallen guardians. Enemies and allies alike will drop them and both can be picked up by either side. Picking up an enemy medal will give the killer a point and the person who picked it up another point for picking it up. Picking up an ally's medal will prevent the enemy team from getting credit for either task and occasionally give a point, so you could approach situations with these in mind. Enemies/allies will often come for medals and sometimes it's worth walking trading your life (two points) for a couple of medals (four or more points). Needless to say, it's a lot of fun and filled with quick comebacks and even quicker leads, especially at the end.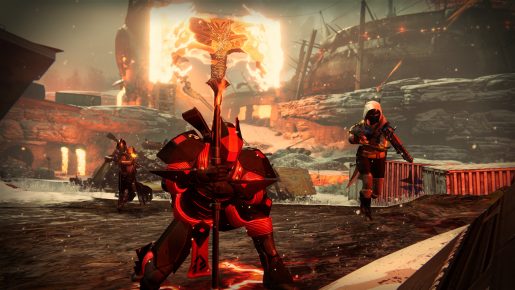 Even though Destiny: Rise of Iron does a lot right, it, like previous expansions, it is fairly light on content. The story offers about an hour of gameplay, Archon's Forge is fundamentally flawed due to there being a one offering (what activates the forge) limit, only a handful of quests and things like this. Even most of the exotics added have been known and were listed in the Armory when The Taken King launched. You could quite honestly play for a couple of hours and see all that Rise of Iron has to offer besides the raid, making it a tough sell.
Verdict
Destiny: Rise of Iron has some good points, especially the game changing raid, but doesn't offer much bang for your buck. There isn't much to see and even less to do once you finish the handful of story missions, complete the strike and do a little exploring. Maybe future events or content that currently isn't available will change this, but right now, Destiny: Rise of Iron is essentially a $30 expansion that gives you a slightly different place to explore, a new place to do a handful of things, a new PVP mode and one of the best, albeit one of the least accessible, raids in the game. If this sounds up your ally then go out and get Rise of Iron today, but if you want more I suggest waiting to see what, if anything, comes out in the future.
[Editor's Note: Destiny: Rise of Iron was reviewed on PS4 platform. The game was provided to us by the publisher for review purposes.]
Destiny: Rise of Iron Review

,