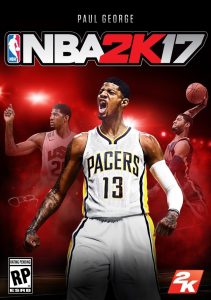 2K Sports has revealed the standard cover for NBA 2K17 and it features none other than Paul George. If you don't like that, you can get the special edition with Kobe Bryant on the front.
Paul George has been a fan of the NBA 2K games growing up as a kid and is now excited to be on the cover for the franchise. George currently plays for the Indiana Pacers.

If you pre-order the standard edition you will get:
5,000 Virtual Currency;
MyTEAM Bundle (includes 3 packs with guaranteed Paul George Free Agent card);
And, more to be revealed at a future date.
Not only was the cover shown, but a release date was also revealed for NBA 2K17. You can get the game on September 20th, 2016 for PS4, PS3, Xbox One, Xbox 360 and PC.