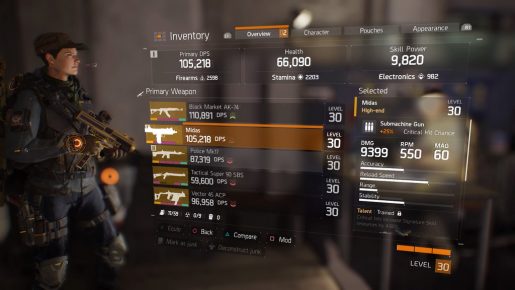 As soon as you reach level 30 in The Division, your hunt for the most powerful weapon begins.
For those who are not aware, the current high-end submachine gun that you get in the game is the Midas. Apparently, the Midas is a random loot that you can get from elite enemy drops. That means, you will have to kill a lot of them and hope that they drop the gun.
Here are weapon talents of the gun:
Trained: Critical hits increases your Signature Skill resource by 4.6%.
Self-Preserved: Critical hits with this weapon heal you for 3% of damage dealt.
Vicious: Your Critical Hit chance is increased by 13% while you are at full health.
and the available mod slots:
Small Underbarrel
Magazine
Small Muzzle
Small Optic
As soon as you get the Midas, you'll notice that the gun shines gold. With the weapon so unique, it can't have a weapon skin, which is quite disappointing.