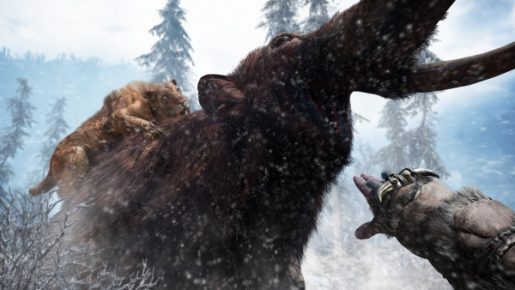 Ubisoft revealed at this year's The Game Awards 2015 a new feature for Far Cry Primal called Beast Master.
Beast Master is a few feature that let's players tame predators they find in the open world and use them as weapons. The predators include wolves, sabretooth tigers, cave bears, and honey badgers. In addition, players will be able to summon these animals at any moment and use them to take down enemies.
From wolves to sabretooth tigers to cave bears, and yes, even the honey badger, players will be able to summon these animals at any moment and use them as they like, from taking down their enemy, scouting the area or acting as a distraction during battle and hunts. With these animals at the player's side, there will be many opportunities to fight enemies to take back control of Oros.
In addition, Ubisoft announced that Far Cry Primal will be getting a "Deluxe Edition with Steelbook" for North America. Here are the details:
Deluxe Edition with SteelBook (North America)

The Far Cry Primal Deluxe Edition with SteelBook is the ultimate package for fans to get access to all digital content available and the exclusive collectible SteelBook.

Physical Content

Far Cry Primal game
Exclusive SteelBook
Map of Oros
Official soundtrack

Digital Content

Digital content including a complete pack of Legend of the Mammoth missions, new weapon and four enhancement packs.
Legend of the Mammoth missions: Up to almost 45 minutes of additional gameplay where the player will have the unique opportunity to play as the largest animal in Oros, the almighty mammoth, and feel the power to stomp its enemies and defend its herd from other beasts and humans.
Duel of beasts: A powerful rhino spirit dares to challenge your might. Battle him and his herd across treacherous cliffs to assert your dominance.
The trapped elder: Bloodthirsty hunters have trapped your leader. Crash their camp and lead the elder to freedom.
Hunt the hunter: The time for revenge is now. Lead your herd to crush those who threaten your survival.
A new weapon, the Blood Shasti Club: A bloodstained club of bone and teeth once wielded by Ull, the vicious leader of the Udam. This weapon is unbreakable and cannot be consumed by flame.
Four enhancement packs: Early access to rare resources and unique customization options.
Far Cry Primal will be available worldwide for PlayStation 4 and Xbox One on February 23, 2016 while PC will get it sometime in March 2016.
Check out the 10-minute trailer that debuted in this year's The Game Awards 2015 show: