Skyshine's Bedlam is a rogue-like, turn based strategy game set in a futuristic post-apocalyptic wasteland full of intriguing characters and distinct colorful enemies. Survival is the aim of the game; navigating the "Dozer", a heavily armored fort on wheels, to Aztec City: a place that has the potential to offer sanctity from the wastelands. Will players wish to board the Dozer for the perilous journey or have the wheels fallen of the bus? Read on to find out!
The setting isn't overly original, with more and more titles leaning towards post-apocalyptic events and nuclear war themes: regrettably the concept isn't groundbreaking either. However, the game does try a new spin on things and feels like a crazy child of the Mad Max films and FTL. While Skyshine's Bedlam does lack some originality this isn't necessarily an issue. Mad Max, especially since the reboot of the film franchise, is fresh in everyone's minds and offering a game which has similar elements is bound to help attract people to the game.
As it should. Even though the hard trudge across the wasteland is reminiscent of the journey taken in the Mad Max films; the game offers plenty of features which help it deviate from a simple copy. For one, enemies come in plenty of forms from cyborgs and mutants to unique boss like enemies and even cyborg mutants. Even the general grunts can pack a punch in Skyshine's Bedlam though, so watch out.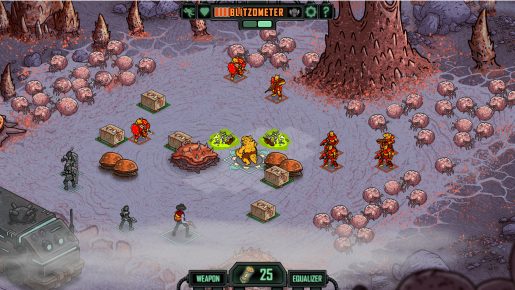 For good and for bad permanent death is present in the title. This feature can be irritating when spawning close to enemies for the turn based combat, resulting in a shift wipe of your selected forces. Nevertheless, it adds to the level of attachment players will feel when sending veteran characters into battle. Despite the fact that the time taken to level characters up to veteran can be less than one medium scale encounter, as it is based on kill count, the loss of veteran characters can be hard to take.
Veteran characters are often the members whom players will want to use in encounter after encounter: either due to their high health stats for tanking or being large damage dealers. This being said with permadeath a core feature players will edge on the side of caution, questioning every movement decision they make; as any slip up can see a team member fall.
As with FTL, another rogue-like strategy title, players can pick up new characters along the journey, and go onto unlock mutant Dozers. In the case of new crew members, this is often a good way to up the numbers of characters players can select when deploying into encounters. This becomes important as the journey gets further into the wasteland; with characters being killed off and increasing numbers of enemies, with initial encounters only against 3-4 units. This ramping up of enemies has thankfully, in the latest patch, been tweaked and is now severely less punishing.
Due to character numbers slowly dwindling, players will at some point in their venture have to make tactical decisions, of whether to go to all nearby events or plow straight on towards Aztec City. This is when resource management throws spanners into the works and players will find their resources decreasing rapidly. Players can collect additional resources, such as oil or food, via events but it is possible to quickly run out of fuel. If this happens players are given a last chance option as the Dozer's tracks comes to a halt. Looters will soon be on top of the player and despite often being game over it does seem possible to win encounters against looters and then progress onward.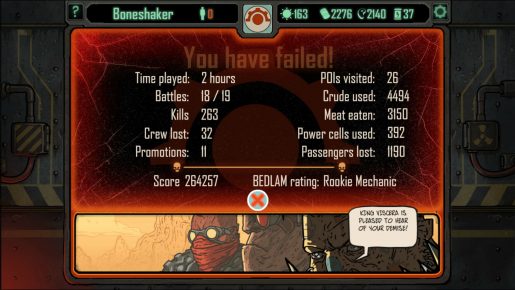 For any turn based strategy title the key to an enjoyable game is the combat gameplay. On the whole, health vs damage stats feel balanced but it is the action point system which hinders the title. Rather than a standard action point per character system, players and opponents are given 2 action points per turn, regardless of unit numbers. This results in two, not gamebreaking but irritating, issues. Firstly, players can be outnumbered yet the game will still feel like a 2 on 2 fight. Secondly, players will find that they reside themselves to using a single powerful unit over and over again: only adding to the pain of losing them via the permadeath mechanic.
Skyshine's Bedlam's initial concept is one of a fantastic game but unfortunately it does fall somewhat short. The permadeath feature, which does add a decent risk factor to encounters, coupled with the action point system results in a frustrating combat system that seems to punish players, randomly through no fault of their own. This is the major issue as it seems that luck, not skill, is what will get players to Aztec City.
Skyshine Games has just released "Bedlam 2.0" and this update does address some issues such as reducing the number of enemies at higher threat levels balancing the game by making individual units stronger. Alas, despite improving the title and making steps towards the game seeming fairer, there still needs to be a few tweaks before the game can reach its full potential.
Skyshine's Bedlam Review

,