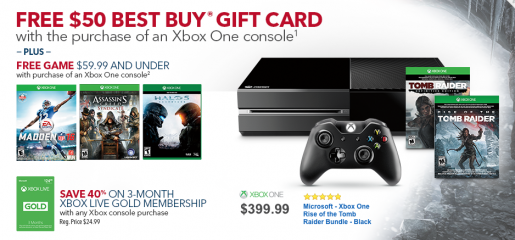 For gamers who still haven't picked up a Xbox One this year should consider checking out an awesome deal at Best Buy this week.
If you are planning to get a Xbox One bundle this week, especially with Rise of the Tomb Raider coming out soon, you can buy the bundle for $399.99 and get bunch of free stuff like a free $50 Gift Card and a Free Game worth $59.99. With the free game, you can get any of the recently released titles like Halo 5 and Assassin's Creed: Syndicate!
You still have until Saturday, November 7, to avail this amazing deal at your local Best Buy stores. What are you waiting for? Go get an Xbox One now!