Tales of Zestiria is the latest Tales game that Bandai Namco released in North America and Europe following the launch of Tales of Xillia 2 last year. While Tales of Xillia 2 was a little bit underwhelming to fans, many were quite worried with Tales of Zestiria as it could have suffered the same fate. For long-time fans of the series, it's best to say that Zestiria is the Tales game that every fan has been waiting for as it features a lot new things that reinvigorate the series and make everything feel fresh once again.
From the many Tales games that I have played in the past, Tales of Zestiria has the story that once again jumped start my excitement with the series. Comparing it to my long time favorites, Tales of Symphonia and Tales of the Abyss, Tales of Zestiria's storyline becomes my favorite as it offers not only an enthralling plot, but it also has likable characters that you will fell in love with. The story of the game follows Sorey, the prophesied Shepard, who wants to rid the world of melevolence, the grudgeful Hellions, and the Lord of Calamity who is behind of all evil things that happened in the world. Before we see Sorey fulfill the prophecy and becomes the Shepard, fans will see his transformation from an innocent character who grew up with the Seraph, a celestial being who who are invisible to the eyes of humans, to someone who will become the hero that everyone wants him to become. He will be joined with his long-time Seraph friend Mikleo, Princess Alisha, and other characters that will help him fulfill the prophecy. As with all Tales game, Zestiria tackles the story of politics, relationships, betrayal, friendships and psychological well-being. What makes the story stand out in this game is how the characters tackled the different themes and make it somewhat different from the rest of the Tales game.
There are a lot of new things and changes in Tales of Zestiria that makes the game better overall compared to past games. One change that I have seen is the shift to open-world. The days where the maps that you explore are small are long gone as you can now explore and see the beautiful world introduced in Tales of Zestiria. Now, the map that you will encounter is big enough for you to do hunting for stat-boosting items and treasures scattered throughout the world. With a big open space that is accessible, it might seem like a drag going from one place to the next. Have no fear, there is now a character who gets the title of Lord of the Land who will grant you free teleportation to previously accessed save points, which means that you will see a lot of them more frequently. In addition, titles that you previously equipped to change character costumes in past Tales game no longer do that as each of them now have skills that further even boost the stat of your characters. Pretty much, the customization for the characters in this game are so many, it's guaranteed you will be overwhelmed.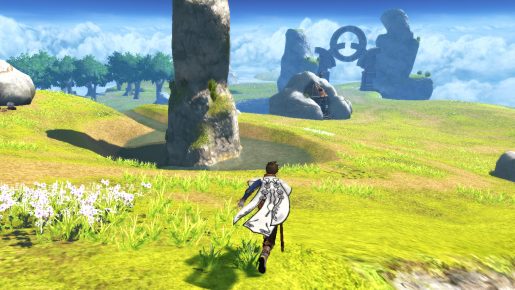 While the game has gotten open-world environments, the dungeons seems to be affected as they have now become linear. When doing dungeons, you will notice right away that they are now shorter than dungeons in past Tales game. The sense of exploration in dungeons are now somewhat restricted, plus it's designed poorly where you see bland walls that will make you fall asleep. As for puzzles, they still exist but I've only enjoyed quite a few of them, which aren't bad and it helps make the dungeon exploring more exciting.
One big change that I lik a lot, though a bit overwhelming, is the tweak they did with the gameplay and battle system. From the simple weapons that you can just equip on your character, you can now level them up by fusing the same kind of weapon to make it more powerful. At the same time it levels up, the weapon will also get new skills that adds more stat to your character. The upgrades both works in weapons, armors, and accessories, though duplicate weapons may be hard to come by as in every shop, they only sell one piece, though duplicates can now be dropped by monsters.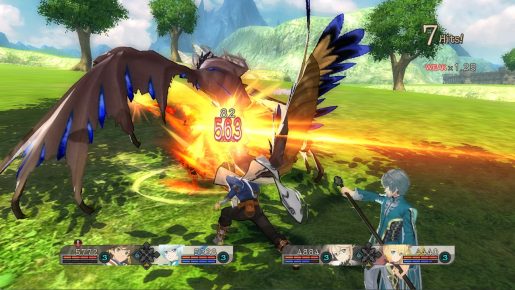 The automatic battle actions introduced in past Tales game makes a return in Zestiria, though there's a bit of change this time around. To gain Action Points that are used in enabling battle actions, you will have to search for monoliths around the world as they give 1 Action Point for each one you find. Pretty much, if you want your characters to do certain things automatically in battle, you have to keep an eye on monoliths that are everywhere in the game – they can be in dungeons, towns, or even in the overworld map.
As for its combat, the game retains the Linear Motion Battle System which should be very familiar to fans of the Tales series. When in battle, there are three type of artes this time around that players can now use; the martial, hidden, and seraphic. Both the martial and hidden artes can be executed by either pressing the circle or X button along with the left analog stick. As for Seraphic artes, this can be used when your Sorey armortizes with other Seraphs in your group. When this happen, the Seraph character, Mikleo for example, will fuse with Sorey and will have a more devastating artes compared to Martial and Hidden. These changes is a welcome addition and it works quite well with the game as it adds flair to it.
Visually, I'm not impressed that much with it due to the fact that it looks more of a PS3 game like Tales of Xillia 2. It's somewhat understandable as the PS4 version is simply a port, though I was expecting a little improvement at least on the designs or textures within the environment as there are parts of the game where towns look bland. Not to mention, camera angles in both during battle and exploring areas can be hard to adjust. However, the game remains beautiful as it still has that Tales vibe to it with colorful environments, interesting character designs, and the anime sequences at certain point of the game.
For fans of the original voice acting in a JRPG, they will be pleased to find out that Tales of Zestiria offers both the Japanese and English audio track. The switch can be changed when starting the game and not while you are playing. I have no problems with the English voice over in this game as their voices matches their looks and personality unlike some other gamers who sometimes have voices that are way off and sounds awkward. As for its Japanese voice overs, I still think they are the best, but regardless what you pick, it's guaranteed that you will enjoy either one.
VERDICT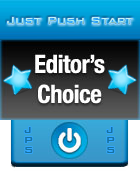 Fans of the JRPG genre, especially the Tales series, will enjoy Tales of Zestiria's enthralling story with loveable characters. Not only that, the enhanced combat/gameplay improves on an already enjoyable system. Sure Tales of Zestiria has a linear design and the camera could be better, but neither of these things ruin the overall experience. Tales of Zestiria is ultimately the best Tales game in the series that will not disappoint.
[Editor's Note: Tales of Zestiria was reviewed on the PlayStation 4 platform. The game was provided to us by the publisher for review purposes.]
Tales of Zestiria Review

,