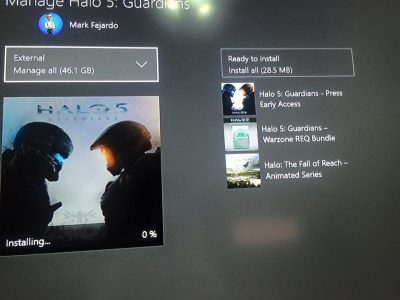 With Halo 5: Guardians launching in about over a week, one of the things gamers should prepare when it launches is the hard drive space it requires.
For those who have the stock 500GB hard drive, you might want to check just how much of hard drive space you have left as Halo 5: Guardians will require a huge amount of space. If you are getting the game digitally, it's best that you pre-order now and pre-load it as the total game size that you will have to download is at 47GB – that's not including the mandatory day one patch!
Aside from the 47GB, players will download an additional 9GB of data when the game launches as that will unlock the multiplayer portion of the game. That means, you will need at least 60GB of hard drive space available. Those who just bought the 1TB bundle won't have this problem. If you happen to run out of space on your hard drive, you can either delete some games or install an external hard drive.
Halo 5: Guardians will launch on October 27 exclusively for Xbox One. To date, Halo 5: Guardians is the biggest downloadable game, not including the Halo Master Chief Collection, which comprises four Halo games.