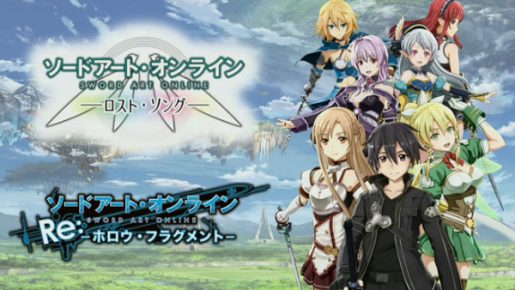 Bandai Namco is pleased to announce today that both Sword Art Online: Hollow Fragment and Lost Song are coming to PS4 in North America and Europe this Fall.
Along with the PS4 version that is coming in both North America and Europe, the PS Vita version of the recently released Lost Song in Asia is en route as well.
Sword Art Online Re: Hollow Fragment (PS4)

Due out exclusively via PlayStation Network in summer 2015.

In Sword Art Online Re: Hollow Fragment, players will play as the main character, Kirito, and fight through all the levels of Aincrad to break free from being locked within the virtual game world. Players with save data from the PlayStation Vita version of the game on will be pleased to learn that some items from that game will be transferable to the PlayStation 4; additionally DLC from the PlayStation Vita title will be unlockable on the PlayStation 4 at a later date.

Sword Art Online: Lost Song (PS4, PS Vita)

Due out via retail and digital in fall 2015 with subtitles in English, French, Italian, German and Spanish.

With an original story based on the Alfheim Online realm including new and returning characters and exclusive environments, fans will be more than happy to spend more than 50 hours questing in the ultimate Virtual Reality universe! To make it even more exciting, Lost Song will feature all new Aerial Battles and plenty of customization features.