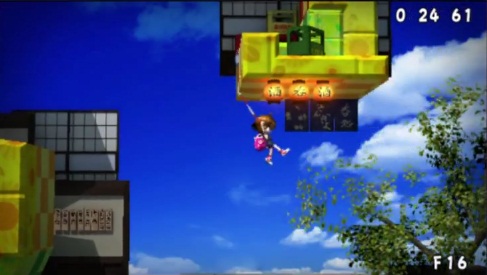 If you've ever wondered what Bionic Commando would play like if Rad Spencer were a Japanese sushi chef, Sayonara Umihara Kawase + might be the Vita game you've wanted all along.
Sayonara Umihara Kawase + is an enhanced version of the similarly titled Japanese indie game (only with an added +, obviously). This platformer utilizes a special bungee style mechanic to traverse around, giving slack to the fishing line and tightening it back in can spring Umihara across chasms or up and over blocks. This type of rubbery mobility gives the game a certain charm that other platformers with their traditional jumping just can't match. If this game looks familiar to US audiences, that's because it was released on the Nintendo 3DS eShop March 2014 under the name "Yumi's Odd Odyssey." The upcoming Playstation Vita release expands on the 3DS version with new additional characters to play as and 60 frames per second animation.
As an added bonus, the 1994 original Umihara Kawase will be included in all its Super Famicom glory.
Sayonara Umihara Kawase + will be available in North America (digital only) on April 21st, Japan and Asia (physical and digital versions) on April 23rd, and a European (digital only) version to follow soon after.