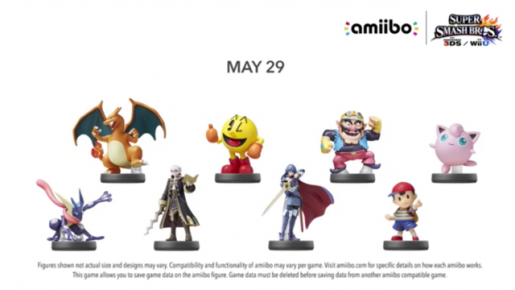 If you're looking to get your hands on Wave 4 Amiibo and plan to purchase them at GameStop, here's some things you should know.
GameStop won't be taking traditional preorders on the five (of seven) Wave 4 Amiibo, as well as the Splatoon Amiibo, that they plan to stock. You won't be able to just place $5 down and guarantee yourself one of Nintendo's plastic collectibles. Instead, all of Gamestop's Wave 4 Amiibo preorder will be handled online, regardless if you order them in store. This means having to pay the full $12.99 (moreso for the Splatoon triple pack) plus relevant tax/shipping in advance for whichever Amiibo you wish to preorder.
Of the currently announced wave, GameStop will carry the following: Ness, Pac-Man, Wario, Charizard, Lucina, and Robin. Jigglypuff and Greninja are MIA from GameStop's list, leading to speculation that these will be retailer-exclusive. GameStop has already confirmed that Ness will be their exclusive (similar to Xenoblade Chronicles' Shulk from Wave 3)
Preorders for Wave 4 Amiibo (and Splatoon Amiibo) at GameStop will open up Noon PST, 1PM MST, 2PM CST, 3PM EST in-store as well as online, barring any server issues. GameStop has announced a limit of one per Amiibo per customer, so duplicates will not be able to be ordered at this time. Regardless of which retailer you plan on getting these Wave 4 Amiibo from, they will all release in North America on May 29th, with future waves to follow.