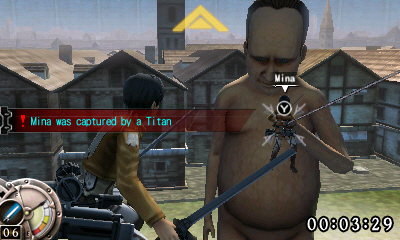 Spike Chunsoft's action game based off the hit anime and manga series Attack on Titan will finally be making its way to North America with a little help from ATLUS.
Dubbed Humanity in Chains, this is actually the second Attack on Titan title released for the Nintendo 3DS in Japan and brings with it a number of new features not found in the original release. This includes both local and online 4-player co-op as well as support for the Circle Pad Pro and C-Stick on the New Nintendo 3DS XL.  This action adventure game will be an eShop exclusive in both North America and Europe, so don't go looking to preorder a physical copy at your local retailer. Below is a short trailer for Attack on Titan: Humanity in Chains ahead of its May release.
Don't know what all the hype is about Attack on Titan? The first two episodes of the bloody anime are available for free on the Nintendo eShop.