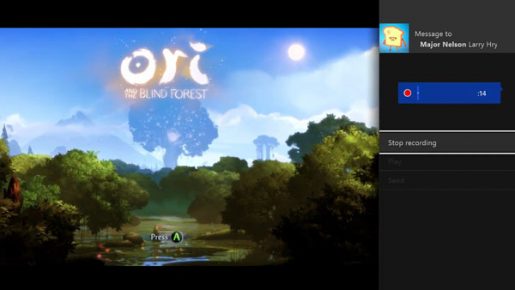 In just a few short weeks, Microsoft will be releasing another dashboard update for the Xbox One, adding more features to the console.
For those who are part of the Preview Program, the April Dashboard Update for the Xbox One is now available and it should've rolled out already. One of the new features everyone can expect is the implementation of voice messages, dedicated servers for party chat, and improvements to the "What's On" area of the dashboard.
Voice messages – New this month is the No. 1 feature requested in the Friends and Parties area on the Xbox Feedback site > "Add audio message …" Xbox One preview program members will be able to compose and playback voice messages in the messages app when snapped on Xbox One. Quickly and easily record audio to send to your friends or others through your snapped messages app accessed through a simple quick double tap of the Xbox button. Additionally, voice messages can be exchanged between Xbox 360 and Xbox One consoles.
Dedicated servers for party chat – We are committed to continuing to make improvements to party chat, designed to improve quality, reliability, and ease of use. We're enhancing party chat with dedicated chat relay servers. This new service will enable Xbox One owners that may have historically had NAT issues to party chat more reliably. Parties where players are unable to form direct peer-to-peer connections for party chat will automatically leverage dedicated server infrastructure to relay traffic.

Currently, this service is only enabled for parties where one or more members are enrolled in the Xbox One Preview program. Those preview consoles enable the service for their party chat sessions, even if some of the party participants are not part of the preview program.

What's On – The Xbox engineering team is continuing to experiment with the What's On area, which highlights popular games, movies, TV shows, game broadcasts and clips. What's On has been available for preview members in the U.S. and this month, the preview of this feature is being expanded to Canada and the UK as well. Additionally, the "Staff Picks" are now more personalized based on your recent game activity, and we're introducing new experiments with Twitter Trending TV, and Game Clips for subsets of the preview audience.
There's currently no word as to when the update will be rolled out to everyone, although it should be around next month! Check out the video demonstration Microsoft released this week.