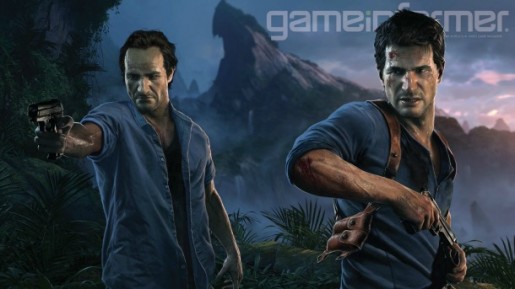 Based as the cover story for next month's Game Informer, Naughty Dog's first title developed exclusively for Sony's current gen console has shed light on a few more details of the game. Uncharted 4: A Thief's End takes place three years after the conclusion of the third entry, Drake's Deception.
Focusing on more than just the follies of Nathan Drake, Uncharted 4 also adds the dynamic of a one Sam Drake, Nathan's elder brother of five years. The beginning of Uncharted 4 will open with Nathan and Elena spending their lives together before Sam, long thought to be dead, makes an appearance on his doorstep. In addition to the new story, Uncharted 4 will also offer multiplayer modes, a staple of the series since Among Thieves. Below are a number of other details about Uncharted 4: A Thief's End and its development, compiled thanks to the folks at NeoGAF (recks in particular).
– Porting TLOU to PS4 helped Uncharted 4 development
– Small team working on it since U3 development ended, half the team moved to U4 after TLOU and the rest after Left Behind
– At the start of U4 Drake is living an happy life with Elena, then Sam appears
– Drake thought Sam was dead
– Sam's life depends on him finding an artifact from Henry Avery
– Drake feels indebted of his brother and he can't resist getting back on treasure hunting
– Story takes Drake and Sam to Libertalia "a mythic Madagascar colony purportedly founded by pirates"
– Says you're not going to spend the whole game on the island, teases snowy and urban environments
– Two rival hunters, Rafe and Nadine
– Rafe is a very different treasure hunter than Drake, with different morale and approach
– Nadine owns a private military company in South Africa
– Villains will play a bigger role this time

– Still plenty of humour in the game
Both Sony and Naughty Dog has been playing it coy, not willing to confirm if the fourth Naughty Dog-developed entry in the series marks the end of the franchise. Expect to hear more news on Uncharted 4: A Thief's End in the coming months, coming exclusively on the PlayStation 4.