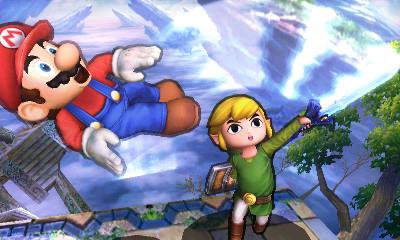 The one mode that I find very fun and interesting is called Smash Run. In Super Smash Bros., Smash Run features a brand of action platforming that is somewhat similar to Brawl's Subspace Emissary but with a twist. As players play through the Smash Run mode, the main objective is to clear the stage in five minutes while collecting power-ups that prepares the player's character for an impending boss fight at the end. The power ups that are available will increase the player's stats and depending on how many the players collected right before the boss fight, the outcome of the fight will be based whether or not the character is strong enough to challenge it. While the mechanics sounds fun, the way it's laid out is annoying as there is no said direction. Pretty much players will find themselves wandering around for the whole five-minutes. It's fun but not having a direction to go to can be quite annoying at times.
Control-wise, it might take some time for gamers to get used to it. When I first played the game, I was kinda thrown-off to the weird controls. After spending around five minutes, I finally got used to it. What makes the control somewhat hard to follow is the small buttons of the Nintendo 3DS. When players are in the middle of an intense brawl with other players or A.I., there's a big chance that players will mess up their combos as there's a chance nearby buttons will be pressed accidentally due to the closeness of one another. When players know how to position their hands, and get used to it, playing the game on the 3DS will become seamlessly fun.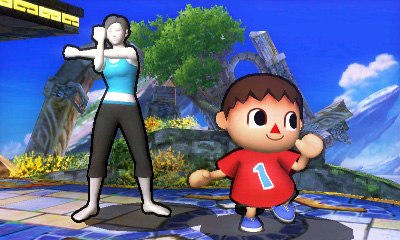 In almost all fighting games that recently got released, majority of them have an online component and Super Smash Bros. is no exception. To make brawling fun, the developers implemented an online play through Nintendo's Wi-Fi connection. For gamers who gets tired very easily on the A.I. that they have to fight through when playing solo, they can hop online and play with other people around the world. The matchmaking is quite simple, players can choose whether or not to play on Ranked or casually where your fights and wins will not be tallied. In addition to the ranked matches, players can also do a one-on-one battle with another player online or do a full-fledged four-player smash chaos.
As far as connection goes, I can say that they are not bad. In my many sessions online, I noticed that there are latency problems where lag can be expected. When the game runs smoothly online, expect the fight with other players to be fun but when it lags, even at for one second, things can get ruined very easily. When that happens, it will look like the game freezes and becomes unresponsive. When playing the game, make sure the players have a stable connection, otherwise what is supposed be a fun game will turn to annoyance in an instant.
Overall, Super Smash Bros. doesn't feel like it's a new game at all. What fans will find in this 3DS iteration is not innovation but more of an improvement of a familiar gameplay we all have seen before. Those who have a Wii U should definitely wait for it to be released as that game will give fans the real and new Super Smash Bros. experience. For those who can't wait and want a Super Smash Bros. that can be played wherever they are, the 3DS version is sufficient enough to give you that Super Smash experience.
[Editor's Note: Super Smash Bros. was reviewed on the Nintendo 3DS. Review code was provided to us by the publisher.]
Super Smash Bros. (3DS) Review

,