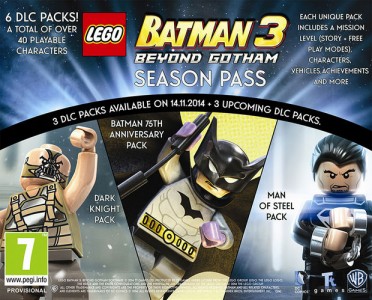 When LEGO Batman 3: Beyond Gotham releases this November, a season pass will also be released, giving gamers access to six total add-ons that they can download at a certain time. According to Warner Bros. the season pass will launch on every platform except the Wii U, 3DS, and Vita.
So far, three of the six DLC have been announced today: The Dark Knight Pack, the Batman 75th Anniversary Pack, and the Man of Steel Pack. These three announced DLC packs will have a story mission plus free play modes, as well as extra characters. The remaining three will be announced at a later date.
The LEGO Batman 3 Season Pass will be available this November for $14.99. Interested in purchasing it individually? They will have the price tag of $2.99 per pack.