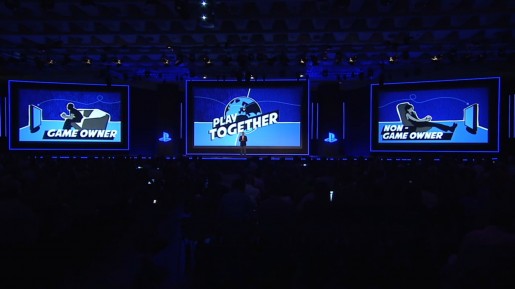 Sony has recently unveiled features for the upcoming 2.0 system firmware on Playstation 4. Among the list of features, besides the usual 'stability updates,' is the addition of a new feature called Share Play.
Share Play, as Sony calls it, puts you and your friends together on a virtual couch. Previously local co-op only games are enabled to be played over the internet. Presumably this mirrors the game instance across both PS4 consoles, regardless if both players actually own the game or not. As for now, Sony has stated that the only requirement for Share Play is to have a PS+ membership. Further details will be unveiled as we get closer to firmware 2.0's launch later this fall.
The best way to think about Share Play is like a "virtual couch". PlayStation 4 will create an online local co-op experience by allowing you to invite a friend to join your game—even when they don't own a copy of it. With this first-of-its-kind feature, you'll be able to play games with a friend just as if you were together in the same room. Let's say that with games… you'll be able to invite your friend online to play against the Miami Heat for the championship as the San Antonio Spurs in NBA2K, tackle the challenging Towerfall Ascension Quest Mode together, or aide, heal, and protect you as Igniculus in Child of Light's local co-op mode.

With Share Play, you can even jump into a game to assist a friend. For example, if there is part of a game that you can't quite finish, you can invite a friend to take over your controls. Like handing over the controller to a friend on your couch, your screen will be shared as your friend gets through the part of the game that has been giving you trouble—can't get past that part in The Last of Us: Remastered when you're hanging upside down? Get a little help.