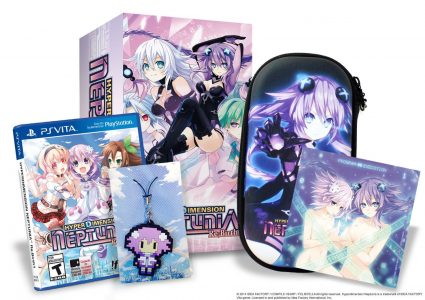 Nep-Nep's latest Vita foray will soon hit consoles with Hyperdimension Neptunia Re;Birth1, a reimagining of the first entry in the series. To celebrate, NIS America is putting together a VERY limited edition for a short time.
The Hyperdimension Neptunia Re;Birth1 Limited Edition is being published and sold by Iffy's Online Store, named for the Idea Factory mascot in the Neptunia series. This limited edition is being sold on the Amazon storefront, which does not allow an option for preorders. Instead, orders for Neptunia Re;Birth1 will be opened up on 8/26/2014 at 12AM midnight (PST). You can place your orders either through Iffy's Online Store page or the product page directly.
The Limited Edition will include the following, for $57.99:
-Hyperdimension Neptunia™ Re;Birth1 PlayStation®Vita game (US version)
-EVA case for the PSVita featuring Purple Heart artwork on the front cover (includes a PSVita compartment and a pocket for earphones, PSVita cards, etc.)
-8-bit Nep-Nep rubber strap from Japanese Premium Edition (Approx. 2.5 inch)
-Neptune and Purple Heart graphic art, printed on high quality photo paper with a gloss finish (4×4 inch)
The Hyperdimension Neptunia Re;Birth1 Limited Edition will be limited to just 1,000 pieces. The reasoning for this is the limited availability of the rubber strap previously available in the Japanese Premium Edition.
Be sure to check back later this month for our review of Hyperdimension Neptunia Re;Birth1. For those on the fence, know that there will be dual audio in this release.