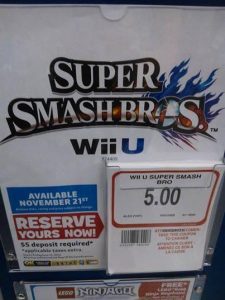 While not officially unveiled by Nintendo or other retailers, Toys R Us has unveiled a preorder program for Super Smash Bros for Wii U that also mentions a release date.
Super Smash Bros for Wii U is listed as having a possible release date for November 21st. This falls in line with previous reasoning that Nintendo would want to have both Super Smash Bros as well as the Amiibo toy platform available on store shelves well before Black Friday 2014. For those caught unaware, Black Friday is slated for November 28th this year.
Credit goes to @Nibellion on Twitter for the information and picture. Chances are it's a marketing kit that someone at TRU put out long before Nintendo gave the green light.
Super Smash Bros for Nintendo 3DS is dated for a October 3rd release in North America.