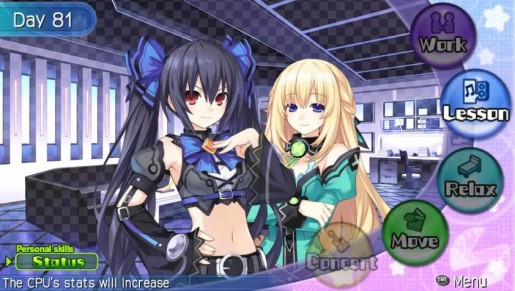 If you've ever played [email protected] or even certain dating simulators, the premise is largely the same. Stat points mean everything, so it's up to some carefully timed scheduling to raise those skills up to levels that can surpass those of MOB48. Activities are limited to performing one per day, with some days being automatically allocated for other events. Despite there being 180 days, there are weekly and monthly idol rankings that waste days without any meaningful training.
To prevent the player from solely focusing on heavy training every day of the week, idols have to manage an extra gauge for 'Stress'. After a low idol ranking, performing a concert, or even randomly during an unsuccessful training event, Stress will build up. Hitting 100% is an instant game over, so knowing when to manage it is key to keeping the idol CPU happy.
There are also a few other mechanics to keep an eye out for in Producing Perfection, such as a relationship meter. Some of the vacation activities, in addition to lowering Stress, can also help you to become more intimate with the CPU. Working your way into your idol's heart is important for trust and confidence, but it's also important to pay attention to the other idols as well. By building up relationships with the other idols, it opens the possibility of performing duos/trios in concerts and building up a greater fanbase.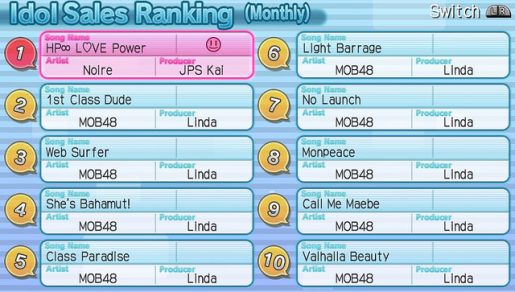 The core of 'gameplay' to Hyperdimension Neptunia: Producing Perfection lies in the concerts your chosen CPU idol performs. And yes, I use the word gameplay in its loosest sense. After deciding to host a concert with your idol (and friends, if you've gotten them to sign with you for a duo), it's up to deciding upon a stage. Each of the eight stages really have no difference beyond that of what the given stage effect gimmick does. Out of an evergrowing list of unlockable gimmicks, ranging from laser shows, confetti, and electric butterflies, you can bring three with you into a concert. These gimmicks are the key to making your fans happy and driving up interest in your show.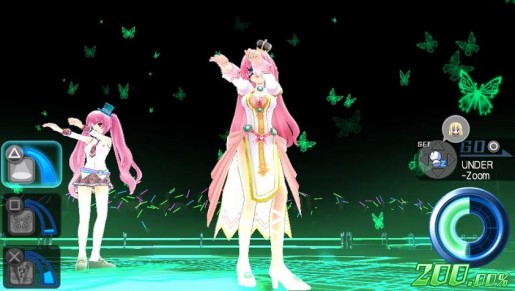 Lastly, it's all about picking the music for your concert. As a game solely focused around pop idols and concerts, surely there would be a diverse music selection.. right? Sadly, this is where Producing Perfection falls short. There are only five, yes FIVE, songs available to choose from. One image song for each of the four idols and a fifth one that's unlocked much later into the game. Once a song's decided on, it's all about positioning (purely for your own enjoyment) your idols and dressing them up into other costumes. As events and milestones are unlocked, plenty more costume and accessory choices open up.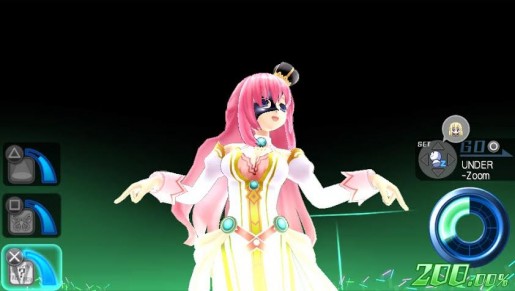 Once the song begins, the core gameplay finally starts. Using your skills as a producer and spurring your idol on, you put those skills to great use as a.. cameraman. While your idol sings her heart out, you have free control over the camera and gimmicks. Rotate the camera to get the best angles (and the occasional awkward panty shot, it seems) and to keep the fans interested. When they start cheering, that's when the stage gimmicks come into play. If you try to use them too early, you will get no bonus to the fans' excitement, so timing them right is important for the higher scores. Between these two actions, that's about it for actual gameplay outside of the simulation menus.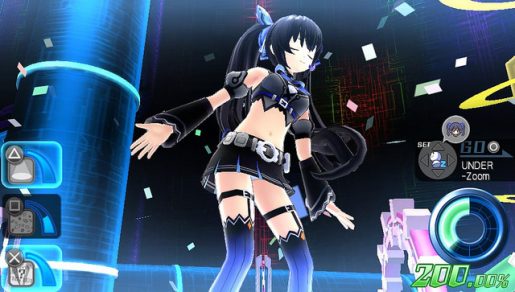 Hyperdimension Neptunia: Producing Perfection, despite its change into a relatively untapped genre of Idol Simulation here in the West, is surprisingly sparse in actual content. The story remains serviceable to get the simulation going, and the actual important parts of being an idol (songs and dances) are so few that they're barely worth mentioning. As an entry into the Neptunia series that's not canon or connected to the previous titles, don't feel too bad about missing out on this one.
Hyperdimension Neptunia: Producing Perfection Review

,