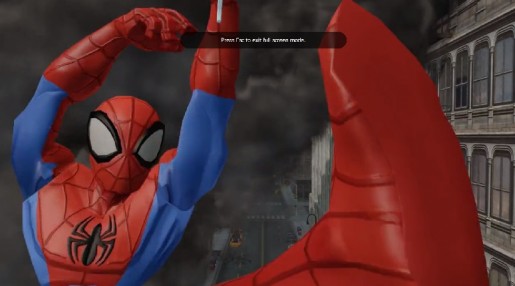 Spider-Man has confirmed to be a part of Disney Infinity 2.0 and he's bringing other characters with him.
The Spider-Man storyline in Disney Infinity 2.0 sees our hero fight the Green Goblin. Green Goblin wants to destroy S.H.I.E.L.D. once and for all. He will be joined by another Spidey villain in Mysterio.
Here's all that the Spider-Man play set includes:
· Play Set: Playable characters include Spider-Man, Nick Fury, Iron Fist, Nova and Venom with additional appearances by White Tiger, Black Cat and Luke Cage. Players will be tasked to destroy the cloned symbiotes and advance to fight Mysterio.

· Toy Box: Spider-Man, Nick Fury, Iron Fist, Nova and Venom will be playable in the all-new Toy Box 2.0 mode of the game, along with all characters previously released for Disney Infinity. Players will be able to use these characters, plus hundreds of Marvel and Disney-themed items, locations, props and vehicles, to create new adventures in customized worlds. Once players complete the Spider-Man Play Set, the S.H.I.E.L.D. Hover Car, S.H.I.E.L.D. Sky Cycle, Daily Bugle Building and more will be unlocked and can be used in Toy Box.
The Spider-Man playset for Disney Infinity 2.0 will be out this Spring.