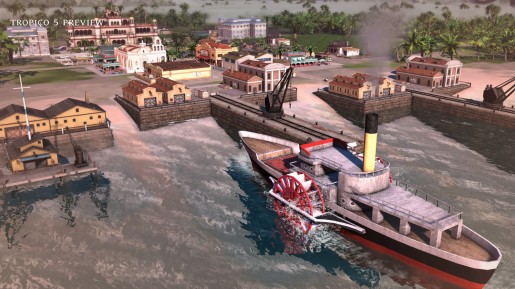 Tropico 5 is has released and it already has a patch and those who purchase it will be downloading a patch as well.
The patch fixes a lot of stability and bugs that some have come across internally. Update 1.01 fixes are listed below and includes several multiplayer exploits and adds stability to it as well. Check out the full list below.
• Several performance and visual optimizations
• Added visual effect for failed and expired tasks
• Fixed rare loading screen freezes
• Fixed traffic logic bugs (cars no longer get stuck)
• Improved multiplayer stability
• Fixed several multiplayer exploits
• Alt+mouse scroll now changes zoom level while placing a building
• Oil Refinery no longer collapses when nearby deposits are depleted
• Disasters no longer change camera scroll speed
• Tornadoes no longer destroy buildings that are far away
• Fixed rebuilding destroyed buildings after disasters
• Campaign progress correctly matches the dynasty used and no longer prompts for dynasty saves
• Added autosave between campaign missions
• Plantations and ranches no longer transform to construction sites when crops or livestock type is changed
• Improved trade ships movement logic
• Trade ships and freighters now use different color schemes
• Revoke effect of the Martial Law edict on elections is now corrected
• Fixed some achievements not working/unlocking properly
• Improved surface suitable for construction on randomly generated islands
• Improved hardware compatibility with Intel HD graphics cards
• Fixed several localization issues. Those responsible have been punished by Miss Pineapple
Tropico 5 releases May 23rd on PC check out our Review.