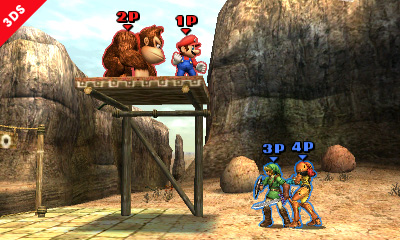 Yesterday, we learned of a few alternate color costumes for the upcoming Super Smash Bros. and once again today we get an update revolving around colors, but in a very different way.
Masahiro Sakurai has revealed that players are no longer stuck to the color of their team, but rather will have an outline instead.
Pic of the day. In previous games in the series, if you chose the red team in a team battle, your Mario would have been red. But now you can choose any color you want! The color outlining the characters will show their team affiliation.
This stands out of course in the image for the Nintendo 3DS version of Super Smash Bros. provided, but I'm curious how it will work on the Wii U version, since the characters don't have outlines like on the handheld.