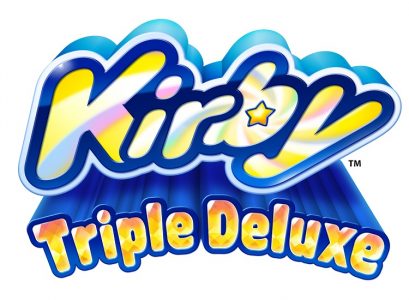 Nintendo has certainly had its fair share of franchises over the years that have come and gone, while others have stood the test of time and still are relevant today. One franchise that fits the latter description is certainly the Kirby series. As a subsidiary of Nintendo, HAL Laboratory has been the developer behind some of Nintendo's best games, like Super Smash Bros. and Earthbound, but Kirby is the one series that they have been working on for over two decades now. Debuting on the Game Boy in 1992, Kirby has shifted back and forth between handheld and console over the years and this time he returns to the handheld platform once again with Kirby: Triple Deluxe on the Nintendo 3DS.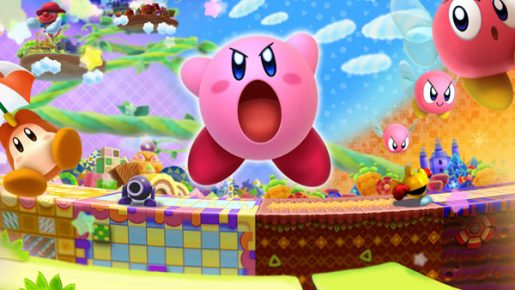 While Mario may be the platforming king for Nintendo, Kirby isn't too far behind with game after game of solid platforming action. Kirby: Triple Deluxe is no different, as it presents you with almost exactly what you would expect out of a Kirby game, nonstop side-scrolling fun. The story for this game is relatively basic, as per usual, but still is interesting enough to keep you intrigued. This is especially the case at the endgame, where some interesting character moments occur. The non-spoiler version of the story is that something called the Dreamstalk has risen up from Dreamland, which has taken Kirby's house and King Dedede's castle to the top. As a result, Kirby goes on a mission up the Dreamstalk to conquer whatever enemies may get in his way.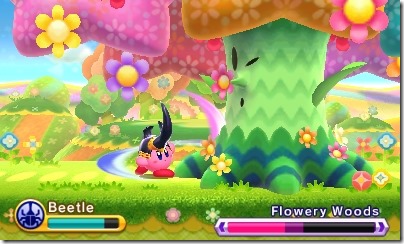 The Kirby franchise has always been relatively creative with its level design and this entry is certainly no different. While not quite as impressive as say Donkey Kong Country: Tropical Freeze's level design earlier this year, Kirby: Triple Deluxe is innovative enough all on its own. The stages are based around different tiers of the Dreamstalk, which include the basic Kirby like stages found in Fine Fields at the beginning, but grow much more as you move forward in the game. Some of my favorite stages came from the fifth world in the game called Endless Explosions, but I won't spoil them for you, as it's much better to experience them firsthand.
Kirby: Triple Deluxe definitely utilizes the whole screen, by allowing you to move between the foreground and background through the use of specially placed stars. Sometimes you will have to use these to advance further in the level, while a lot of the time it is either an alternate route or the way you will find collectibles, especially the hidden Sun Stones. You have to be very careful, as some of these stars are one use only and you will have to replay the entire stage again to look for hidden items you may have missed.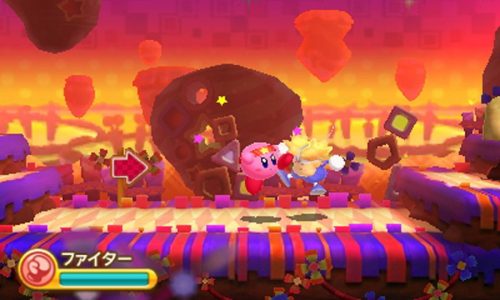 Ever since Kirby's Adventure released on the NES in 1993, the main staple of the Kirby series has been his ability to inhale and copy the abilities of his enemies. Over the years, the number of powers that are able to be copied have increased and Kirby: Triple Deluxe features a staggering total of 25 regular power-ups, plus one super power-up. Four of these are completely new to the series with Archer, Beetle, Bell, and Circus. Archer was easily my favorite of the new power-ups, and even had a later stage built for its use throughout a good portion. I wasn't a huge fan of Circus, but that was mostly just a personal choice of liking more projectile related power-ups.
The power-ups are always fun to use in the game, but they are made even better with each one getting their own full movesets. By pausing the game when you are in possession of a power-up, you can look at the full movelist, which includes the basic B attack, as well as Dash+B, Down+B, and even B with full health. This gives a lot more depth to each individual power-up, as well as making you actually wanting to try them all out as you make your way through the story. The game even has trap power-ups like Sleep, which may cause you to lose a life if you accidentally pick it up from an item drop area.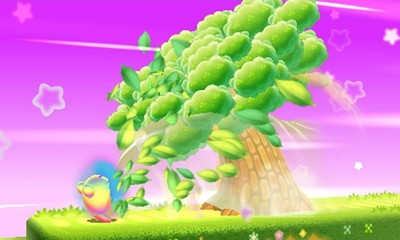 The biggest new addition to the game is technically a power-up, but still quite different, known as Hypernova. This was one of the most hyped features for the game and there is good reason why it was promoted so much. Hypernova is the most powerful weapon you will acquire in the game, as you are pretty much unstoppable when you have it. During random stages, you will come across a tree that gives you the power-up, and there is no way to beat the stage without it. Unlike other power-ups, you will never lose it upon being hit by an enemy. The only way to lose Hypernova status is to beat the stage.
Kirby: Triple Deluxe Review

,