Hearthstone has become a household title the past month or so and it continues to spread with upcoming DLC being released soon and the expanding fan base of the easily accessible card game. It got me thinking, it's easy to release a game like this on PC and iOS but it would be even easier to release it on consoles, especially next-gen ones but would it work?
If it were to happen it would have to compete with a lot of high quality content that is already out on the consoles. That is not to say Hearthstone isn't it really is top notch. The only direct competition that comes to mind would be the Magic card game that releases yearly. However, unlike Hearthstone it requires an initial purchase whereas Blizzard's game does not.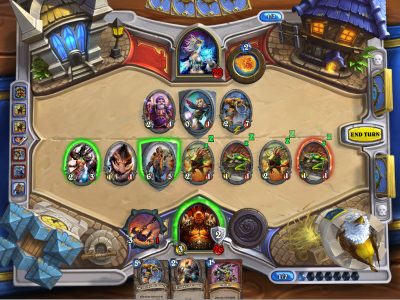 I believe if Hearthstone were to make it to console it would be a smashing success to the point you would see the audience grow and it reach a wider array of people. The sheer amount of people it would be available to out of the gate would be great and it would open it up to those who may not have access to an iPad or play regularly on a PC.
What do you think? Would it work on consoles? Would you buy it if it released? Let us know in the comments section below.