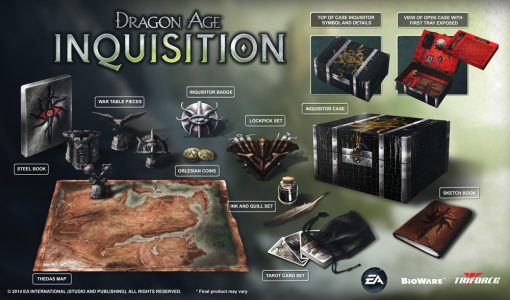 Dragon Age: Inquisition is easily one of this years most anticipated RPG's and a Collector's Edition was bound to appear. However, an Uber Edition is another story.
The Uber Edition which is available now for pre-order through several outlets such as Gamestop. This special edition includes an array of interesting features such as a unique case, a special steelbook, a quill and pen, an Inquisitor Badge, really I am not making this up. It looks pretty great too. The detail is done by Triforce. Full feature list of the Uber Edition included below. Be warned, it will set you back $169 but it might be worth it for the collectors out there.
– Highly detailed exclusive Inquisitor Collector's Edition case produced by TriForce measures approximately 3.5″ x 7.5″ x 11.5″
– The case is individually wrapped in faux reptile skin, has the mark of the Inquisitor stamped on top in gold foil, and the interior is fitted with and imprinted red silk.
– Cloth map of Thedas drawn to scale measuring approximately 14″ x 17″
– 72 card Major and Minor Arcana tarot card deck with custom artwork depicting mythology and mysticism from Dragon Age lore.
– Inquisitor full scale six tool lock pick set
– One set of four full scale map markers each approximately measuring 3.5″ x 2.5″ x 3″
– Inquisitor's Badge
– Inquisitor Badge
– Quill and Inkpot
– 40-page Inquisitor's Journal
– Orlesian Coins
– Limited edition SteelBook case
Dragon Age: Inquisition is set to release on Xbox 360, Playstation 3, PC, Xbox One and Playstation 4 on October 7th.