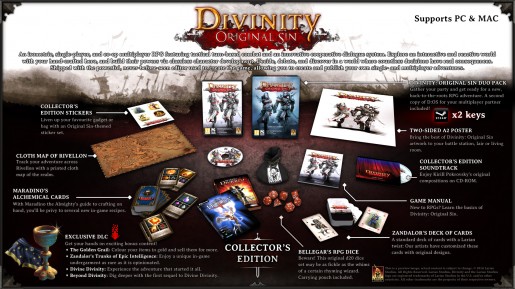 Divinity: Original Sin is finally approaching its long awaited release on June 20 next month, which should be ready to go after months of beta and Steam Early Access. For those that are looking to purchase the game in retail, Larian Studios has revealed a full Divinity: Original Sin Collector's Edition to get you reaching for that wallet.
This Collector's Edition will have a limited run of 3,000 units, of which 1,500 are already claimed from Kickstarter backers. For $94.99, you can get all of the following in this package:
-Two copies of Divinity: Original Sin for co-op adventuring
-Digital copies of Divine Divinity and Beyond Divinity
-Recipe cards to help you craft in-game
-A cloth map of Rivellon
-A two-sided A2 poster
-A Soundtrack CD
-An Original Sin-themed playing card deck
-Premium-quality RPG dice set with pouch
-A Sticker pack
If you are interested, you can put in your order for the Collector's Edition right now on the official Larian Studios website. Also, Steam Early Access has now unlocked a "fully functioning" version for Mac as well. Look for Divinity: Original Sin next month on June 20.