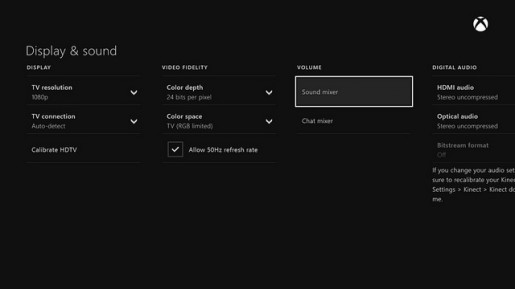 Ever since the Xbox One got its first system update back in February, Microsoft hasn't stopped going with monthly updates that bring substantial changes to the system. Throughout this process, some users have had the opportunity to gain early access to these updates for beta testing purposes. With the next update set to go to those with early access in the next week, Major Nelson has revealed some of the details about this update.
The first addition in this update will be the introduction of the Sound mixer, which will allow you to choose which of the two apps, when using snap, will be the loudest. You will also gain the ability to control the volume levels when you're using Kinect for chat.
The other part of this update is not exactly a feature, but something that can lead to better Kinect voice command recognition. There will be an area where you can opt-in to speech data collection.
Under Settings, then Privacy & Online Safety, go to Customizing privacy and online safety and set Share Voice Data to Allow. This is completely optional and all voice data shared via this setting will be used for product improvement only.
Lastly, you will have the ability to download the new update as soon as it is available, rather than it gradually rolling out to Xbox One owners.