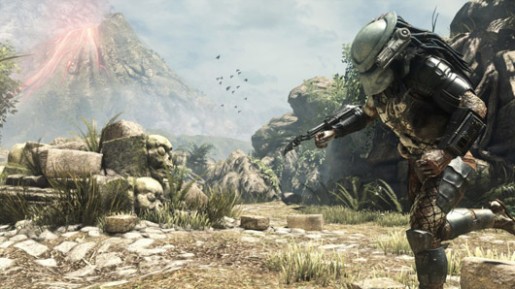 Activision has announced that Call of Duty: Ghosts Devastation DLC is now available on PlayStation and PC.
The Devastation DLC for Call of Duty: Ghosts is the second of four DLC packs coming for the game. It is now available for PC, PS3 and PS4 owners after releasing on Xbox One and Xbox 360 first.
Read below to see more of what the Call of Duty: Ghosts Devastation DLC offers:
Ruins: A multi-level Mayan temple suited for both long-range weapons and close-quarters combat. Skilled players that find and complete the map's unique Field Order will have the ability to become one of Hollywood's most formidable action film stars and the galaxy's ultimate hunter, the deadly Predator.

Collision: The mangled remains of a cargo ship that's crashed into a New York City bridge, this map's tight corridors are made-up of burned-out vehicles and demolished shipping containers, creating a perfect space for run-and-gun players.

Behemoth: Players battle atop a massive excavation platform in South America, with lengthy sight lines ideal for long-range weapons, while the confined interiors of the platform's control rooms make for intense SMG and Shotgun encounters.

Unearthed: A reimagined version of the fan-favorite map "Dome" from Call of Duty®: Modern Warfare® 3, "Unearthed" is full of new secrets and Cryptid artifacts for players to discover in this compact, versatile map, great for all play types.

Additionally, Call of Duty: Ghosts Devastation brings fans the next chapter in the ongoing episodic Extinction story with "Episode 2: Mayday." In the aftermath of the events at the Nightfall Program facility in the Alaskan wilderness, the Quick Reaction Force boards a mysteriously abandoned Chinese research vessel adrift in the South Pacific Ocean. Armed with multiple, mod-able versions of the Venom-X weapons that harness the power of Cryptid technology, players will pursue Captain Archer in an attempt to uncover what's become of Dr. Cross. The action continues as players battle against a new Cryptid enemy called the "Seeder," and culminates as they face-off against a massive, 400-foot tall Cryptid beast from the deep – the "Kraken."

Finally, Devastation arms players with the all-new tactical 2-in-1 "Ripper," a hybrid SMG/Assault Rifle. The "Ripper" is the perfect complement to Devastation's new multiplayer maps, providing two different configurations that players can switch between on the fly – medium to short-range capability as an SMG, and medium to long-range as an Assault Rifle.