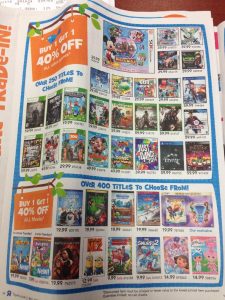 While Target had the buy two get one free sale last week, Toys R Us is following that up with one of their better sales offerings as well, the buy one get one 40% all games sale.
This sale includes games from any platform, including next-gen and handheld systems, so you certainly have quite the selection to choose from considering Toys R Us is usually pretty well stocked in video games. As always with a sale like this, the game that is 40% off will be the lowest of the two games you are purchasing.
Also, Toys R Us is having the same sale on their movies as well, but more than likely they are separate to where you couldn't buy a game and get a movie 40% off. This sale will run through next Saturday, April 19, so don't miss out!