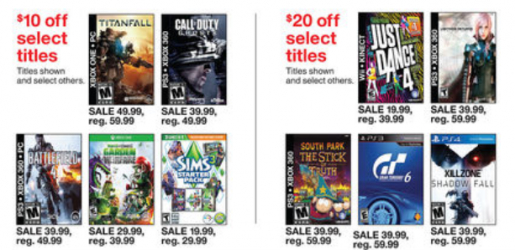 Following up on their excellent buy two get one free sale last week, Target has another that isn't anywhere near that, but still a quality sale. Target has knocked $10 or $20 off some select recent releases for a variety of platforms.
The sale flyer says that the following games are $10 off this week: Titanfall (Xbox One, PC), Call of Duty: Ghosts (PlayStation 3, Xbox 360), Battlefield 4 (PlayStation 3, Xbox 360, PC), Plants Vs. Zombies: Garden Warfare (Xbox One), and Sims 3 Starter Pack (PC).
The following games are $20 off this week: Just Dance 4 (Wii, Xbox 360), Lightning Returns: Final Fantasy XIII (PlayStation 3, Xbox 360), South Park: The Stick of Truth (PlayStation 3, Xbox 360), Gran Turismo 6 (PlayStation 3), and Killzone: Shadow Fall (PlayStation 4).
The flyer also says that other select games will fall under either sale in stores as well, so it might be worth your while to stop by your local Target store before the sale ends on April 19 and find out if there are any others that might catch your attention.