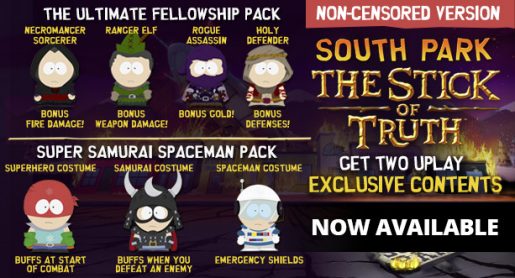 South Park: The Stick of Truth now has new content! Three DLC packs can be purchased for the outstanding title, one of which is the once pre-order exclusive Ultimate Fellowship Pack. The following two add-ons are completely new to the game and implement new costumes and abilities:
Super Samurai Spaceman Pack ($1.99)
Push your role playing skills to the limit with Superhero, Samurai and Spaceman outfits.
Super Ultimate Pack ($3.99)
Pick your perk with seven exclusive costumes that come equipped with special abilities. Suit up as the Necromancer Sorcerer to increase your fire damage, earn extra gold by equipping the Rogue Assassin outfit, deal extra weapon damage with the Ranger Elf costume, or raise your defense with the Holy Defender outfit. Also included are those from the Super Samurai Spaceman Pack.
Snag the cheap pack(s) of your choosing and head on back to South Park for some more outrageous adventures with Cartman and the gang.