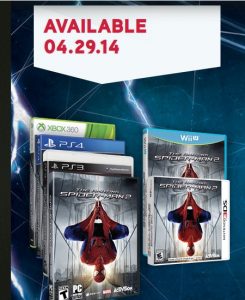 With The Amazing Spider-Man 2 set to hit theaters in only a few weeks, of course Activision and Beenox have a video game tie-in set to release just before on April 29. However, Xbox One owners are going to be very disappointed by this news, as it has been revealed that the Xbox One version of the game has been delayed indefinitely.
This news is so surprising as the game is less than two weeks from release and is still scheduled for release on PlayStation 4, PlayStation 3, Xbox 360, Wii U, PC, and Nintendo 3DS on that day. MCV received the following comment when they asked Activision about the delay.
We want to inform you that we are revising our release plans for ASM2 on Xbox One. When and whether ASM2 is released on Xbox One is TBD.
That comment is certainly not too promising for Xbox One owners, considering that movie tie-ins usually sell as a result of the movie being out at the time. Plus the fact that the official website has pretty much removed any information about an Xbox One version even existing, as can be seen in the image above. Stay tuned for more information on this strange situation with The Amazing Spider-Man 2 as soon as we receive it.