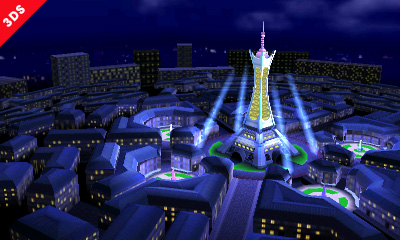 Ever since the very first Super Smash Bros. game, we've always had new Pokemon stages to experience with each new entry. As a result, it is no surprise that a brand new stage would be revealed for the game based on the latest entries in the series, Pokemon X & Y.
In today's update from Masahiro Sakurai, a new stage for the Nintendo 3DS version of the game was unveiled with the Prism Tower in Lumiose City.
Pic of the day. The Prism Tower rises above Lumiose City. Up until a few seconds ago, the fighters were brawling on top of that tower. No, really.
Now, we must wait and see what other Pokemon stages we get in either version as we typically get more than one.