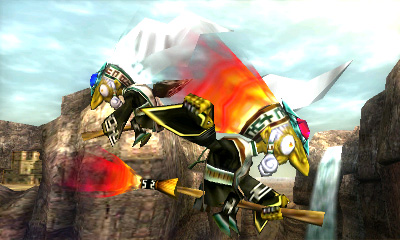 When Super Smash Bros. was first revealed last year for Wii U and Nintendo 3DS, we saw glimpses of a 3DS-exclusive stage based on Gerudo Valley from Ocarina of Time. Many months later, we've now learned a little more about that stage by being introduced to a stage hazard we can expect to come across in Gerudo Valley.
In today's update from Masahiro Sakurai, it was revealed that two popular enemies from the game would be making an appearance in the stage itself, while stirring up trouble no doubt.
Pic of the day. The twin grannies, Kotake and Koume, appear in Gerudo Valley! They're definitely up to no good.
Perhaps we will find out what they will be doing in the stage to try to hurt our characters in a future update.