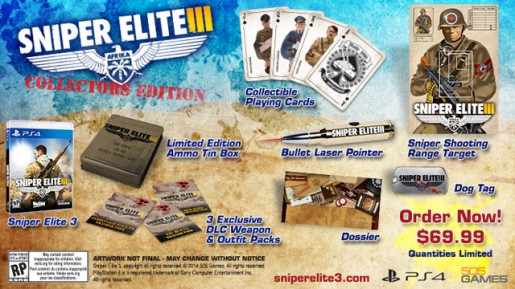 Sniper Elite 3 just received a release date and some pre-order bonuses but that won't stop 505 Games from releasing a reasonably priced trinket filled Collector's Edition.
The Collector's Edition for Sniper Elite 3 has only been mentioned for Playstation 4 and Xbox One so it seems it might be exclusive to next-gen platforms. It includes the following and is now available for pre-order at Gamestop:
-Sniper Elite 3
-Limited Edition Ammo Tin Box
-Collectible Playing Cards
-Bullet-shaped Torch Pen
-Dossier
-Dog Tag
-Sniper Shooting Range Target
-3 Exclusive DLC Weapon and Outfit Packs
Sniper Elite 3 is set to release in North America on July 1st and self published by Rebellion Studios on PC on July 27th.