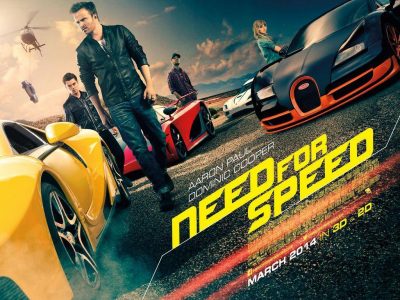 Need for Speed came out over the weekend and only grossed $17.8 million. Why did Americans choose not to watch the movie?
There are a lot of factors that come into play whether a movie is success or not. With the case for Need for Speed, the genre it falls in made it an uphill battle from the get-go.
Historically, video game movies are a big turn-off to the average movie goer. A normal discussion about video game movies in general usually end up in a negative way. Even gamers themselves shudder about the many useless movies that have been made about their beloved games over the years.
Need for Speed sounded like a good idea on paper since the Fast and Furious franchise is no longer about cars. It was supposed to revive an old genre of movies that existed back in the '60s and '70s. Judging by the response from fans and critics, it looks like the movie failed to capture a wide audience in America.
One of the factors I would like to put out is the fact the movie lacks any huge Hollywood stars. Americans usually love to watch recognizable names on the big screen, and this movie had no star that can be called a household name.
I've noted before in an earlier article that Need for Speed's main star Aaron Paul is not a household name. The man is ONLY famous for his role in Breaking Bad and that's about it. Unlike Bryan Cranston who was Argo and known to many as "Malcom's Dad" in Malcom in the Middle, Aaron Paul never had a second iconic role in his resume.
The Need for Speed cast as a whole is full of relatively unknowns. Apart from Micheal Keaton (who isn't advertised) nobody else in the film is known to a wide audience. I recognized some of the other cast member myself, but they;re not actors I would pay top dollar to see on the big screen. The reason the Fast and Furious movies do so well is because they have an ensemble cast full of lots of charismatic actors. Not to mention they added someone famous as The Rock in the later films too.
Another negative aspect about the Need for Speed movie is that it's too serious. You would think a movie about fast cars would be humorous and not take itself too seriously. Just because a movie is serious, doesn't immediately mean it's good. Nobody wants to see a movie about cars for the story. We just want to see some action.
I also think Americans are still fascinated by super-hero movies. Any other genre of movie has started to lose interest with the American movie audience. Even new films starring Arnold Schwarzenegger and/or Sylvester Stallone have flopped at the box office recently. Only The Expendables films have been successful to them because it's an ensemble cast. You could say The Expendables is like a superhero-type movie anyway.
Judging by the lukewarm reception the movie has received and the minimal amount of money that has been received in North America, I doubt Need for Speed will have a sequel. It will be known as yet another video game movie that turned out bad.
Have you seen the movie yet and what were your thoughts on it?