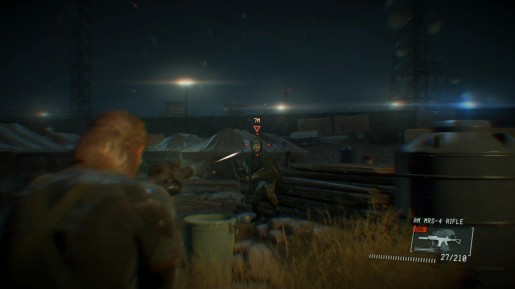 Tired of closed spaces and linear paths in past Metal Gear Solid games? Well that changes in Ground Zeroes and the upcoming The Phantom Pain. What you will see in Ground Zeroes will show you what kind of things Kojima has in store for us when it comes in tackling missions. This time in Metal Gear Solid V, the environment that you will have to go through is an open world. Players are given choices on how they would want to tackle their missions. In Ground Zeroes, when extracting Chico and Paz, you can choose where you would like to set the extraction point and decide which path to take to reach the objective. What is shown in Ground Zeroes shows a lot of promise and versatility that many fans can look forward to in The Phantom Pain.
While there are new things implemented in this game, some are improved. Whenever you are caught by an enemy soldier, you will go in a slow motion segment and there will be an option where you can take them out before they raise an alarm or choke them. In addition, whenever you are in sight of an enemy, you will know that you are about to be detected as there is an indicator on the HUD. Whenever that indicator appears, you have time to take action and go in hiding to prevent the enemy soldier from alerting everyone. Are the changes something that may disappoint fans of Metal Gear Solid games? Not really as the changes are good and well executed.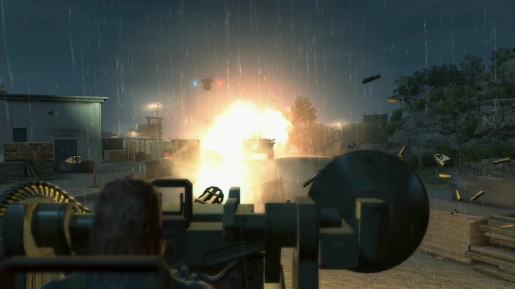 As for the codec, they are completely gone in Ground Zeroes. The way Snake communicate to Major Zero is by simply pressing the shoulder button. Whenever you need assistance or advice from any of the characters, which is Zero in Ground Zeroes, you can just press one button and the character will speak without the need of going into the Codec screen. It's a nice improvement since the lengthy codec conversations can be a drag, especially you have to sit and actually listen until it finishes.
At the price tag that Konami has put for Metal Gear Solid V: Ground Zeroes, it's hard to take that players are being charged that much ($20 for PS3/Xbox 360 and $30 for PS4/Xbox One) for a game that many people consider to be a demo. For fans of the series who don't mind to spend that kind of money just to see what the future lies in the upcoming The Phantom Pain, definitely get it as what this game offers will get you excited.
[Editor's Note: Metal Gear Solid V: Ground Zeroes was reviewed on the PS3/PS4 platform. The game was provided to us by the publisher for review purposes.]
Metal Gear Solid 5: Ground Zeroes (PS3/PS4) Review

,