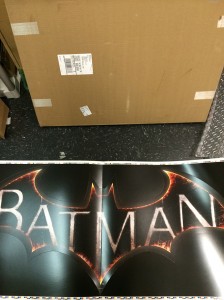 Something is cooking over at Rocksteady and many believe it is the continuation in the Batman franchise that has made the studio so popular. Now it appears a logo has leaked.
Keep in mind this is all a rumor at this point but it looks like someone at some major retailer has received a teaser poster with the new Batman Logo. It looks like it is encased in fire which could mean it may be the finale in the Arkham Trilogy that Rocksteady started. As many know Origin's was not Rocksteady but another branch of Warner Brothers Interactive and they just created a prequel story to tie-into the entire thing.
Tell us what you think, we will have to see what happens.