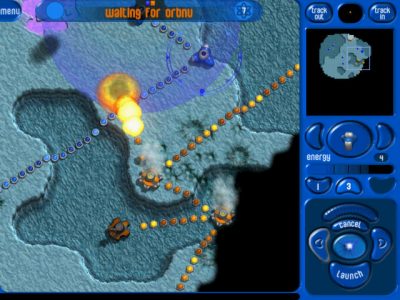 You can never quite get tired of retro games. Granted there are always good and bad games, but Moonbase Commander is one of the classics. Developed by Humongous Entertainment, Moonbase Commander is a turn-based strategy game that was released in 2002, which has recently been republished by Rebellion and made available through the digital game distribution software, Steam.
The gameplay itself is rather unique and different to that of other strategy games. Initially, players control a starting main hub that can build other buildings by firing them out in a particular direction at a power dependent on how long players hold down the launch button. Each building created is then linked to its parent hub via a glowing cord. Players must beware that cords cannot cross over each other, otherwise the building created will be destroyed. The main hub can build offensive, defensive and utility buildings as well as offensive ordinance such as standard bombs and cluster bombs. Theoretically, a player can attempt to destroy enemy structures via only the main hub, but fog of war and wind can affect the trajectory of the projectile meaning that they may miss the intended target. Additionally, maps are wrapped around the edges meaning that no player is ever in a corner. Players must also keep an eye on the energy bar that is indicated in the UI on the right hand side of the screen; the amount of energy  determines how many actions the player can perform. Some actions cost more energy than others for example, it costs a lot more to build new hubs links that it is to fire ordinance from a hub.
Moonbase Commander is a turn base game i.e. each player takes it in turns to perform an action. The number of actions per round is determined by how players use their energy. A round will not end until every player has expended their energy supplies or has chosen to skip their turn. Once a round has ended, players will then have their energy bars replenished for the next round. A general rule of thumb is to build energy hubs early in order the maximize the amount of energy available per round. As players expand their hubs further around the map, enemy players will also be doing the same. Players must destroy enemy hubs using an assortment of weapons and devices.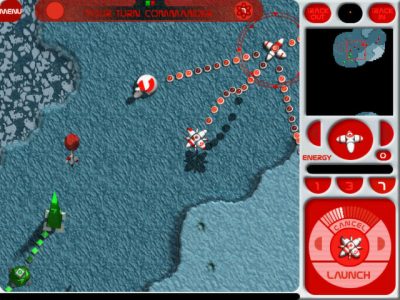 Moonbase Commander has 4 factions that can be played, which are NiceCo, DeWulf, System7 and Team Alpha. Each faction is the same in every aspect except the aesthetics of buildings and ordinance. There are two types of gamemodes, Skirmish Mode and Challenge Mode. In Skirmish Mode, players can battle up to 3 AI players of varying difficulty levels. The aim of Skirmish Mode is to eradicate all opposing players on the map. Challenge Mode consists of sixteen premade missions, i.e. four for each faction. Every challenge has different goals, enemies and settings. The player can earn Gold, Silver or Bronze medals when completing the challenge which is heavily dependent on how long it takes for the player to complete it. Challenges unlocked linearly, so once a challenge is completed, the next one is then unlocked.
Regardless of age, Moonbase Commander is a surprisingly addictive game and arguably better than some of the strategy games out there. It requires focus and planning, anticipating enemy movements and estimating trajectories. It has an excellent blend of fun and skill and has an elegant simplicity to it. If you are ever feeling old school and like strategy games, Moonbase Commander is an ideal game to add to your collection. It's currently priced at £4.99/$5.99 on Steam, a bargain for a game such as this!