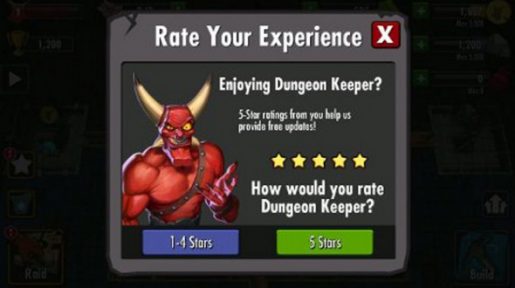 EA Mobile's attempt to inject new life into the Dungeon Keeper franchise has been met with some objections regarding its free-to-play model. However, despite the plethora of in-app purchases and other monetization in the title, there has been a great deal of support in terms of Google User Reviews. Now, more information has come out regarding why those ratings might be so high.
Dungeon Keeper is unique in how it asks for feedback. Any other game would typically ask for a rating and offer a suggestion for a five-star, usually pointing out that the higher reviews promote adding more content to the game. EA Mobile's taken it a step further and has tried a unique approach to filtering out reviews that may be unseeming for the app store.
Upon being asked to submit your feedback, you're offered a choice between offering a "1-4 Star" or a "5 Star" review. The latter will take you directly to the app store where you can later place your final score for Dungeon Keeper, whereas the former takes you to an email form where you can submit your thoughts to EA, subsequently bypassing posting a review. There's nothing preventing customers from submitting a 1-star review after clicking the option to submit a 5-star, but there does seem to be a bit of misleading information.
To quote Google Developer's Spam Policies:
Don't try to manipulate ratings—Do not engage in attempts to manipulate the ratings, reviews, or ranking of your apps, either directly or indirectly, or by manipulating the ratings of your competitors. Do not attempt to artificially boost reviews, ratings, or installs through any means.
EA Mobile has posted an update through Eurogamer regarding their stance on redirecting unsatisfied players to sending an email instead of a lower rating for Dungeon Keeper.
"We're always looking at new ways to gather player feedback so that we can continue to improve our games. The 'rate this app' feature in the Google Play version of Dungeon Keeper was designed to help us collect valuable feedback from players who don't feel the game is worth a top rating. We wanted to make it easier for more players to send us feedback directly from the game if they weren't having the best experience. Players can always continue to leave any rating they want on the Google Play Store."