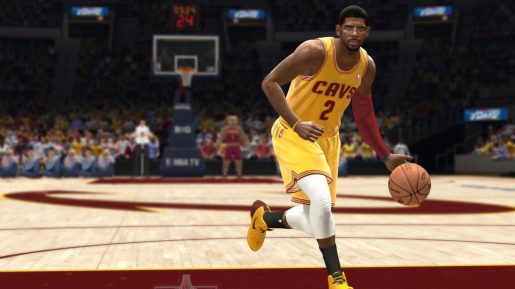 As with most sports games, NBA Live 14 provides a Dynasty mode that allows you to take the role of general manager of a team of your choice. You can just choose to use the current NBA rosters, or you can completely mix things up with two other options. The first is to do a full fantasy draft that allows the entire NBA to be reshaped roster wise. The other option is to just redo the 2013 draft based on the team that you pick. However, once you get your season going in Dynasty, there is little to set itself apart from any other basketball games. You can manage the team from the top by trading players, signing free agents, upgrading your coaching staff and setting your player rotation, or just play the season's games if that is all you want to do. Dynasty mode is fun, but there is little to set itself apart from the same mode in past NBA Live titles.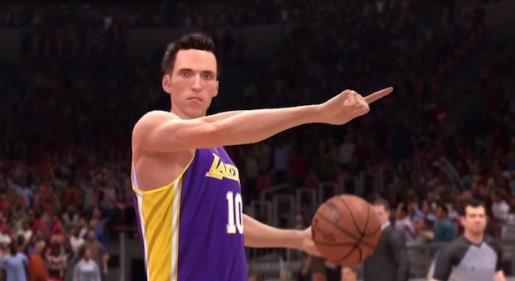 Ultimate Team is a game mode that has become synonymous with EA Sports' games over the last few years, but is only now making its debut with the NBA Live franchise. For those that have played Ultimate Team in other games, you mostly know what to expect. You start with a pack of lesser players in the league that will makeup your starting Ultimate Team. Of course you will start weak, but you can upgrade them through a couple different ways. You can earn points while playing the game and purchase new packs or you can pay real money to get NBA Points that can be used to buy packs. There are three packs to choose from: bronze, silver, and gold. Of course the gold ones will provide the best players, but come at the highest cost. Once you are happy with your team, you can face off again the computer team of your choice, or actually take your team online to face off against a live opponent.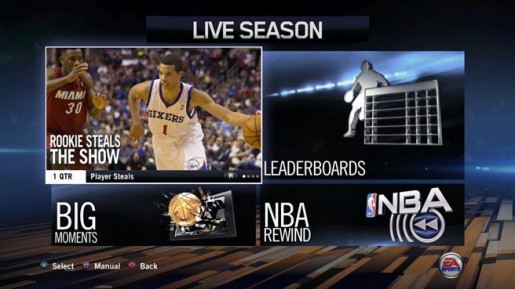 Live Season mode allows you to interact with the ongoing NBA season. One way is through Big Moments, which are the best moments from the season thus far that are constantly updated. The other is through NBA Rewind, which allows you to play through each and every game thus far on your team's schedule. In this, you will be given challenges that you should try to meet, such as "Score 30 points with LeBron James" in the December 16 matchup between the Miami Heat and Utah Jazz. This allows for interactivity with the ongoing NBA season, which I know I always like to do in sports games.
From playing the variety of game modes, you will experience the fantastic ESPN presentation that is exclusive to EA's NBA game. From the opening to the various inbetween moments, the inclusion of ESPN in the game really helps to make the experience feel more authentic. The announcers are solid as well with Mike Breen and Jeff Van Gundy calling the game and the insightful Jalen Rose handling pregame, halftime, and postgame duties.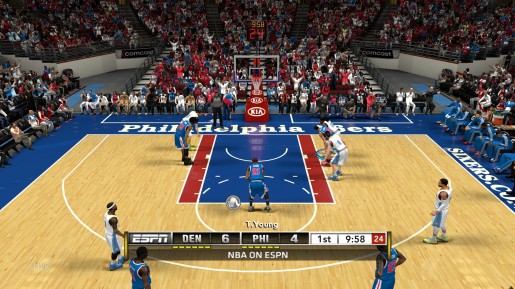 While the presentation may be great, one of the most disappointing aspects of the game has to be the graphics. If I didn't know that this game was for next-gen, I could have been fooled that it was a last-gen game, as the game doesn't feel decidingly next-gen. When there is another NBA game on the market that really stepped it up graphically on next-gen consoles, it is really disappointing to see so little change in NBA Live 14. The game introduced the brand new IGNITE game engine that was supposed to make the game even more realistic, but it really felt no different than past experiences I've had with the NBA Live series.
The control scheme remains very similar to past entries in the NBA franchise by keeping the X button as the only way to shoot, while keeping the right analog stick for dribble moves. This does make it a little more difficult to make accurate shots, but I did not have too much trouble scoring once I got going each game. There are more advanced methods of play that you can utilize once you get better at the game, but beginners can also get the hang of it pretty quickly to where it is still fun to play. There is even a little Kinect integration that allows you to call timeouts, as well as offensive and defensive play calls while on the court. However, as with most Kinect voice commands, its usefulness depends on how well it can understand your voice and accent.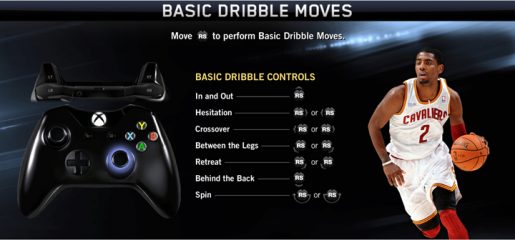 NBA Live 14 is a fairly fun, but still somewhat disappointing return for EA Sports to the NBA Live series. There are a variety of game modes to choose from, with some being better than others. The blandness of character creation in Rising Star really lessens what could have been a really fun game mode. Gameplay is exactly what you would expect from the old games in the series and the ESPN presentation is solid, but the graphics also feel like what you would expect from previous entries in the franchise on the last generation of consoles. If you were a fan of the NBA Live series in the past rather than the 2K Sports games, you will probably like this as well, especially after the gameplay was patched. However, it is hard to recommend this game to everyone when the NBA 2K series has really cornered the NBA game market so well.
[Editor's Note: NBA Live 14 was reviewed on the Xbox One platform. The game was provided to us by the publisher for review purposes.]
NBA Live 14 Review

,