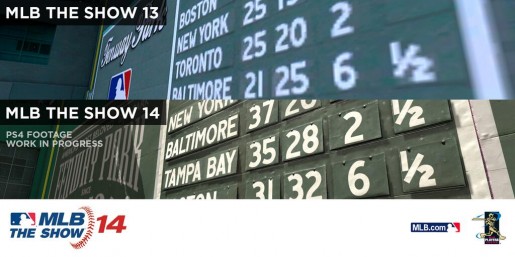 After the news earlier tonight that 2K Sports has conceded defeat in the baseball game department, MLB The Show 14 from Sony will be the only baseball title on the market this spring. The game is scheduled to come to PlayStation 3 and PlayStation Vita as before, but the most exciting venture is the first edition on the PlayStation 4.
Now, we have a comparison picture showing the difference of the iconic Fenway Park scoreboard between MLB The Show 13 on PlayStation 3 and MLB The Show 14 on PlayStation 4. It is pretty incredible how much better the game looks on PlayStation 4, as MLB The Show was annually one of the best looking games on the PlayStation 3. However, with an increase from 150,000 polygons to about one million, there really is not much surprise.
If you are a baseball fan, this is one you are not going to want to miss when it releases this spring.